On-Mountain/Ski Access Dining
20-21 Winter On-Mountain Dining
Reservations required for limited indoor, on-mountain dining at Summit House, Mountain House and Timber Ridge. Time slots open daily at 7 a.m.
We will be offering hot grab-and-go options and bottled beverages at LaBonte's, Timber Ridge, Summit House and Mountain House. We will also have an outdoor BBQ at Timber Ridge and Mountain House, weather permitting.
Restrooms are open.
There are 15 minute warming areas on-mountain at LaBonte's and Mountain House.
We will only be offering packaged beer and wine, and all of our full-service bars will be closed.
For the consideration of others, masks are required except when eating or drinking, and we ask that you head back out on the hill when you're finished!
9280 and Alpenglow Stube restaurants are closed for the season.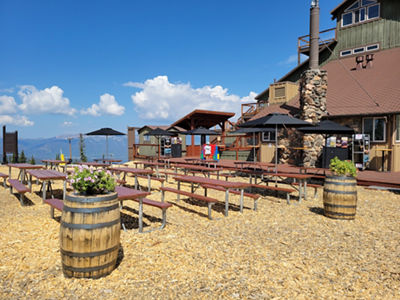 SUMMER DINING
Summit House
Lunch offered from 11am-4pm, Friday and Saturday until 6pm.
Grab & Go Pre-packaged Menu offering. Pulled Pork and Mac n Cheese offered Friday and Saturday.
Outpost
Weddings and Private events only for the summer.