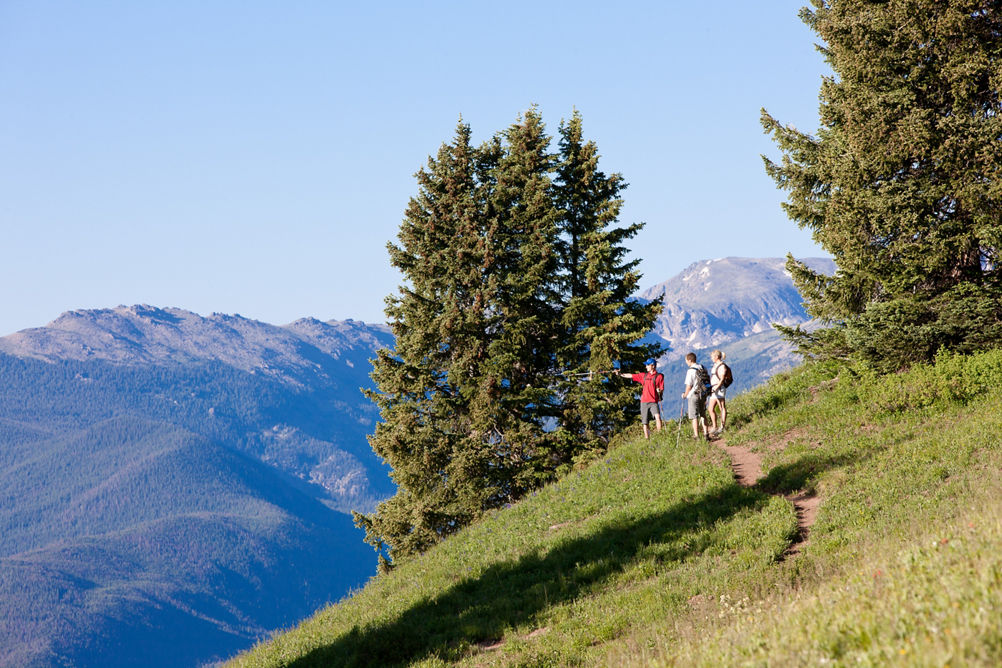 Nestled in the White River National Forest of the awe-inspiring Rocky Mountains, Keystone, CO, is a true hidden gem awaiting discovery. A short 90-minute drive from Denver, this expansive 3,000-acre mountain offers an unrivaled playground for outdoor adventurers looking for a fun getaway. During the summer, Keystone hiking boasts favorable weather conditions, vibrant wildflower displays, diverse wildlife viewing, and more. Stay at Keystone Resort for access to an abundance of hiking trails both on-site and nearby, and discover nature's magic as you soak in the fresh air, warm rays, and unparalleled views from elevations reaching 14,000 feet.


Best Hiking near Keystone Resort
While staying at Keystone Resort, take full advantage of the surrounding area with one of the many beautiful hikes. Hiking near Keystone Resort offers many incredible trails suitable for different skill levels and preferences. Wake up refreshed after a night of relaxation at Keystone Resort, pack your water, sunscreen, and camera, and hop in the car for a short drive to the trailhead. Whether seeking a leisurely stroll or a thrilling challenge, hikes in Keystone will captivate you as you create unforgettable memories through nature's wonders.
Dercum Summit Hiking Trail
Dercum Mountain offers a more challenging hike. Like Schoolmarm Trail, you can access Dercum's
2.3-mile loop
from the top of the River Run Gondola, following signs near the Key Top Overlook Deck and traversing above the Mozart Ski trail. To maintain physical distance from other guests, hike this trail clockwise. At the top, you'll find captivating views to take photos, enjoy a picnic, and soak in the natural beauty.
Keystone Gulch Trail
Keystone Gulch Trail is a moderate-to-challenging
18.1-mile loop
with a nearly 3,000 feet elevation gain. Starting on Keystone Gulch Road near the base of the Mountain House, the trail winds along a lively stream and through meadows and forests, offering scenic views of wildflowers, aspen groves, and panoramic views of the town below and the mountains above. There's a lot of wildlife in this area, so keep an eye out for moose and other animals, and always keep a safe distance.
Sapphire Point Overlook
This easy
0.6-mile loop
hike on nearby Lake Dillon is a popular trail for those looking for easily accessible views. Traverse through a forest of wildflowers, tall pine trees, and possibly wildlife. The breathtaking view from Sapphire Point Overlook showcases the mesmerizing beauty of Dillon Reservoir, nestled between the majestic Gore and Tenmile mountain ranges. With advanced
reservations
, you can reserve the space for two-hour blocks for private gatherings.
Lily Pad Lake Trail
A few miles from Keystone Resort in Silverthorne, this moderate, family-friendly
3.3-mile out-and-back trail
gets its name from Lily Pad Lake, located at the hike's endpoint. Find the trailhead near the entrance of Meadow Creek Park off Ryan Gulch Road. The trail follows Meadow Creek through a peaceful forest of pine and aspen trees, providing shade and a soothing atmosphere. You'll want to arrive early as the parking lot fills up and there is no street parking available. Lily Pad Lake is also accessible from the South, starting at the
Meadow Creek Trailhead
.
Buffalo Mountain Trail
This strenuous
6.4-mile out-and-back trail
is recommended for experienced hikers. It begins next to the Lily Pad Lake trailhead in the Wildernest neighborhood. Winding its way up the mountain through lush forests of pine and aspen, rocky slopes, and alpine meadows, it takes you to the summit of Buffalo Mountain, where you'll be in awe of the stunning panoramic views of Lake Dillon, the Gore Range, and the Tenmile Range.
Tenderfoot Trail
Located on the northern side of Lake Dillon, many families enjoy this
1.8-mile hike
with minimal elevation gain. You'll find the trailhead off Hwy 6 on Straight Creek Road. Immerse yourself in the beauty of the foothills and experience the tranquility of vibrant wildflower meadows and serene aspen forests.
Meadow Loop and Ridge Trail
Traversing the scenic Dillon Reservoir Recreation Area, this
3.2-mile loop
starts out steep but quickly levels off into a moderate trail option. With its good tree coverage, the trail is the perfect place to stop for a picnic in the shade as it treats you to spectacular views of the serene lake.
Mount Royal Trail
Conveniently located off Main Street in Frisco, just a short distance from Exit 201 on I-70, this
3.9-mile out-and-back trail
is a moderate hike with an elevation gain of 1,372 ft. Within the first mile, you'll pass the historic mining settlement of Masontown. The elevation picks up as you trek the summit of Mount Royal, where you'll find impressive views of Dillon Reservoir, the Tenmile Range, and the Continental Divide.
Peru Creek Trail
Just east of Keystone, this
10.7-mile out-and-back trail
begins at the north end of Main Street off County Road 260 in Montezuma. Like its name, this trail follows Peru Creek through a breathtaking valley that will leave you in awe. This trail offers an ideal balance of easy and moderate sections. You'll see remnants of historic mining sites along the way while taking in panoramic mountain views.
Gold Hill Trail
Halfway between Frisco and Breckenridge, this
6.6-mile hike
is a moderate option in the area and has a total elevation gain of 1,512 ft. It's part of the 500-mile Colorado Trail from Denver to Durango. As you ascend, you'll enjoy scenic Upper Blue River Valley to the east and rugged peaks of the Tenmile Range to the west.
Ptarmigan Peak Trail
Across I-70 from Keystone Resort, near Lake Dillon in Silverthorne, this
11.7-mile out-and-back trail
is challenging yet rewarding. Its gradual incline takes you through a diverse ecosystem, including vegetation like sagebrush meadows, pine forests, aspen groves, spruce-fir stands, and wildlife like deer and elk. It ascends to Ptarmigan Pass, offering 360-degree views of every mountain range in the Dillon Ranger District, including the Continental Divide, Gore Range, Tenmile Range, and Williams Fork Range.
Book Your Stay at Keystone Resort
Stay at
Keystone Resort
to access the best hiking in Keystone, Colorado. We've got everything you need for endless family fun in the great outdoors. Enjoy countless activities at your fingertips: boating and swimming at Lakeside Village, playing
golf
and
tennis
,
mountain biking
, relaxing at the
Alpenglow Spa
, and more. Best of all, however, is the incredible hiking near Keystone. Lace up your hiking boots, grab your loved ones, and get ready to discover the magic of the Rocky Mountains.