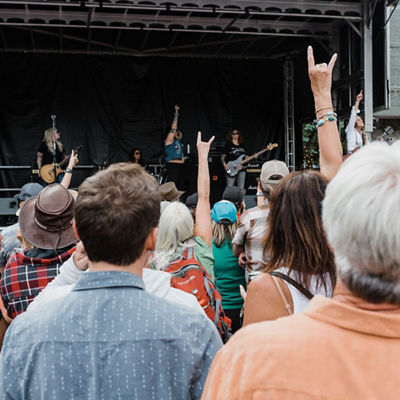 Keystone is a great destination for families that love adventure. No matter which season you visit, you are guaranteed a wide range of entertainment. In the winter, you'll find plenty of snow-based action on the slopes. In the summer, you can enjoy a wide range of activities, including mountain biking, hiking, golf, and live music. The Keystone live music scene plays host to bands from all genres, so there really is something for everyone, including some of the best live music in Summit County.

The Live Music Scene in Keystone, Colorado

Music fans staying at the ski resort can expect live music in many different genres and locations. There are venues big and small across the region, ideal for families that want to get out and explore the area. There are even a couple of spots right in the resort which host different musical events depending on the time of year. Ask the in-resort team about the Last Lift Bar and the summer music events at River Run Bazaar in River Run Village. Crowds gather at the resort to listen to live bands perform outdoors during the summer days. With a real festival atmosphere, the whole family is sure to be entertained. Last Lift Bar occasionally hosts après music that has become an essential part of Keystone's already sensational nightlife scene.

Beyond the resort, Keystone live music is kicking it up a notch at venues all over the region. Bands big and small love to play here, and the local music lovers are pretty pleased about it too! Live music in Summit County is a big deal, so knowing which Keystone music venues to check out can help you see the next big act before they're famous nationwide or catch up with some local favorites.

Warren Station

As Keystone music venues go, Warren Station is a must-visit destination. Its full name is Warren Station at Keystone: Center for the Arts, and one of those arts is definitely music! Guests and locals come here for concerts, music festivals, and even theatrical productions. Look out for solo artists, bands, and even special free events like "Stars and Guitars." Parents should check out the events listings for events aimed specifically at children.

Warren Station is located at the Dakota Lodge River Run Village, very close to the Keystone Lift Ticket Office, and ideally located for anyone staying in the village or anywhere else on the mountain.

Getting to Warren Station

Guests staying in River Run Village can simply walk from their accommodation to the Arts Center. It's a slightly longer trek from other areas of the resort, and if families want to drive up, the River Run Gondola parking lot is just a few steps away.

Booking and Reservation Info

Every event at Warren Station has its own ticketing information, and there is plenty of information on the website about booking your tickets. Be aware that the venue closes for maintenance at least once in both April and October — always double-check the dates you want to visit.

Snake River Saloon

Anyone looking for live music in Keystone, Colorado, must check out Snake River Saloon. This "Saloon & Steakhouse" offers a full bar, restaurant, and live entertainment in the form of music ranging from double bass-backed blues to guitar-shredding rock bands. Opening times and amenities vary based on the season, so it's important to check the website before making the journey.

Getting to Snake River Saloon

This top Keystone live music venue is right off Highway 6, a few minutes drive from Keystone Resort, making it a top destination for any family of music lovers.

There is also a seasonal free bus that services the region. Those wanting to explore the area on foot could make it here in under an hour from the ski resort — just make sure you consider the journey back later, especially if you're traveling with children who may be tired. There's also ample car parking here for anyone who would rather drive.

Booking and Reservation Info

The Snake is a popular venue and the bar is often packed out with local revelers and visitors from Keystone Resort. Reservations via their online system are highly recommended. Information on booking for specific bands is also available on the website and the venue's Facebook page, or you can simply call the venue at (970) 468-2788.

Dillon Amphitheater

Dillon Amphitheater is a large, outdoor lakeside live music venue right on the banks of Dillon Reservoir, sometimes known locally as Lake Dillon. The stage here plays host to classical, rock, jazz, blues, country, and metal influences, with many notable acts putting in an appearance over the years.

These have included Umphrey's McGee and Marc Cohn, and the National Repertory Orchestra. Lake Dillon concerts are renowned for providing some of the best live music in Keystone, CO which locals and visitors can enjoy against a backdrop of spectacular views.

Getting to Dillon Amphitheater

Summit County runs the Summit Stage bus service which connects various locations across the county to this venue, including from Keystone Resort.

It's also easy to drive to the venue. Take exit 205 off the I-70 then head west on HWY 6 toward Lake Dillon Drive. The venue is next to Dillon Marina Park at the intersection of Lodgepole Street and Lake Dillon Drive. The venue asks guests to consider carpooling to reduce the environmental impact of traveling for live music in Summit County, CO.

Booking and Reservation Info

Book Dillon Lake concerts by heading over to the venue's website. Some gigs are free so take a look at the events calendar and always check with the venue if you're unsure about any details. You can also view live music Summit County Facebook pages and other social media platforms for updates on bands and artists scheduled to play when you're visiting Keystone Resort.

Summer in Keystone with Live Music

Keystone live music is so popular that there's even a whole festival dedicated to it! Entertainment like concerts and other shows is one of the reasons so many people flock to Keystone Resort in summer.

Finding the best live music in Keystone, CO is much smoother with expert help from your resort team. For more information about what's going on in and around your Keystone Resort, head over to the website or socials or browse our help center for details on all aspects of your stay.