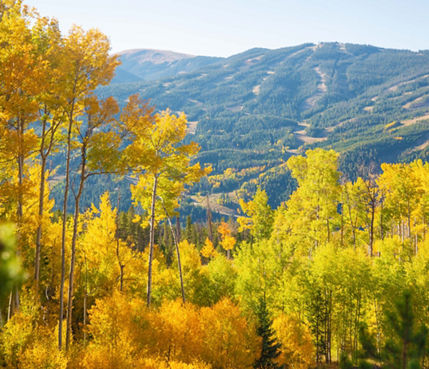 A visit to Keystone, Colorado in fall brings crisp autumn air, changing leaves, and plenty of outdoor activities to explore. Visitors of all types can explore some of the most exciting Summit County Colorado fall activities taking place around the mountain, perfect for playful and adventurous visitors. From thrilling on-mountain biking adventures to sipping seasonal craft beer at Keystone's Oktoberfest, it's easy to see why visiting Keystone in the fall is worth a trip.

With the added bonus of stunning autumn colors spread throughout the mountains, you'll find plenty of picture-perfect backdrops to capture memories of your favorite Keystone fall activities too. Below, explore some of the top things to do in Keystone, Colorado in the fall that are worth adding to your travel itinerary.

Visit the Family-Friendly Keystone Oktoberfest

Keystone is well-known for hosting some of the most exciting festivals throughout the entire year. Festivals attract locals and visitors alike, providing fun for the whole family. If you're looking for some activities to try in Keystone during the fall, check out the annual Keystone Oktoberfest.

Although you may think this festival sounds like it should start in October, Keystone Mountain actually kicks off Oktoberfest in September during Labor Day Weekend. Getting an early start on Oktoberfest allows the celebration to continue for longer. Plus, temperatures in Keystone are most comfortable for outdoor activities earlier in the season.

For adults seeking fall getaways in Summit County, Colorado, Oktoberfest offers several beer tents to explore, each with unique seasonal craft beer tastings. When you purchase a Commemorative Stein, you'll get three different craft beers of your choice along with discounted refills throughout the beer garden.

Got a competitive side? Consider entering into Oktoberfest's Stein Hoisting Contests. These contests host up to ten contestants per category, and events include a Kids Root Beer Hoisting Contest for the children.

Kinderfest

Oktoberfest has something to intrigue visitors of all ages, making this an excellent choice for families to explore. Your little ones will love the "Kinderfest," a kid-friendly event with plenty of exciting activities such as arts and crafts, a family photo booth, and even dance lessons.

Throughout the event, several live-music concerts and dance performances take place, too, providing unique entertainment for the whole family. Taking place right in River Run Village, you won't want to miss a visit to Oktoberfest on your must-do list of Summit County, Colorado fall activities.

Explore Keystone's Stunning Fall Foliage

Visitors of all ages come to Keystone each fall to catch a glimpse of the stunning fall foliage. For the best view, consider visiting during the peak foliage time, which usually occurs from mid-September to early October. The peak foliage time only lasts about two weeks. Throughout this time, leaves on the region's aspen trees change, creating a stunning landscape of yellow, red, and orange hues.

Hiking Trails to See Fall Foliage

There are tons of fall activities around Keystone, Colorado that offer an exciting way to see the fall foliage. For those up to a hike, the Decrum Summit Hiking Trail can get you an up-close few of the region's fall foliage. The Decrum Summit Hiking Trail can be accessed from the River Run Gondola and ends at the Outpost.

This popular trail is amongst Keystone's best for leaf-peeping, spanning 2.3 miles and ascending 180 feet. Be sure to check out Keystone's on-mountain hiking trails, offering endless new ways to explore the fall foliage. The views are certainly worth the hike!

The Salt Lick Area Trail System is another nearby option for exciting hiking trails. Located just outside of Keystone in Silverthorne, visitors can enjoy a great view of changing Aspen leaves from this area. Choose between several different trails within the system, offering several levels of difficulty.

Snake River Bike Path

Autumn is the perfect season to explore Keystone's bike trails too. As you ride through biking trails, you'll take in a great view of the fields and groves of aspen trees and enjoy the colorful views during the peak fall foliage. Located nearby to Keystone around Lake Dillon Reservoir, the Snake River Bike Path offers six miles of pavement perfect for a fall bike ride. Biking at Snake River Bike Path is one great option for a family-friendly ride, thanks to the evenly paved loop.

Scenic Drives Throughout Keystone

Some of the best Keystone, Colorado fall activities don't even require leaving your car! A scenic drive is a great activity for a more leisurely day, providing plenty of adventurous opportunities. While in Keystone, consider a "Boreas Pass Road Drive," which follows Highway 9 through Breckenridge. On this historic and scenic route, you'll find plenty of incredible fall foliage views to photograph.

This road also has a unique history, once used as a railroad in the late 1800s and early 1900s. You and your family can explore the fall foliage while engaging in an interesting history lesson.


Trying New Keystone, Colorado Fall Activities
At Keystone, we offer so much more than skiing. Throughout the fall, you'll find plenty of Keystone, Colorado fall activities that make for a memorable getaway. The popular Oktoberfest never disappoints, offering the quintessential "autumn festival" atmosphere. Enjoy family-friendly fun at Oktoberfest, complete with kids' activities and seasonal craft beer tastings. Plus, visitors can explore endless miles of hiking and biking trails with stunning landscapes of the region's infamous aspen trees.
What are you waiting for? Plan your visit to Keystone, Colorado in the fall and experience the excitement of these best activities. Keystone offers the best selection of
premier lodging options
to enhance your stay and create a complete on-mountain experience. To learn more about visiting Keystone in the fall, view our
help center
for answers to frequently asked questions or
reach out to Keystone Guest Services
for more help.