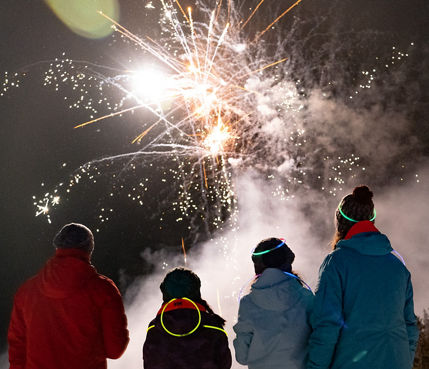 There's no more exciting time to visit Keystone, Colorado, than the holiday season. There's something majestic about ringing in the festive period amidst the snow-tipped Rocky Mountains.

Each year, Keystone events transform the area into a winter wonderland, offering guests the chance to experience Keystone, Colorado, at Christmas starting in November. The festivities begin the week of Thanksgiving and run through to New Year's Eve. Expect lights, music, dancing, food & drinks, snow forts and fireworks, throughout the holiday season.

Are you excited to learn more? Let's dive in.

Frisco's Wassail Days

This honorable mention is not in the lineup of Keystone events per se, but it's worth the short drive if you're visiting here.

Frisco's Wassail Days run the week of Thanksgiving until the first week of December. This event is an annual tradition where locals and guests come to try out various Wassail recipes and marvel at the town's festive seasonal décor.

Wassailing– originally an old English tradition – transforms apples into warm cider, celebrating the year's apple harvest. This was also done to ensure the success of the following year's crop.

The word "Wassailing" means " good health, " and the drink is delicious. Traditionally, it includes typical cider ingredients like clove and cinnamon. However, the Wassail you'll sample at the festival adds a modern twist, so no two cups taste alike.

Winter Carnival & Lighting of River Run Village

Ushering in the Keystone holiday season is the first of many events – Winter Carnival & Lighting of River Run Village. This celebration occurs November 25, 2023 (the Saturday after Thanksgiving). On this day, River Run Village transforms into a large-scale snow globe decked with seasonal décor and the natural backdrop of powdery snow. Locals and visitors stand by to witness the Lighting of River Run Village, an annual ceremony marked by the ignition of thousands of twinkling lights. This officially transforms the village into a true winter wonderland.

Walking around the village, numerous activities beckon for your attention, such as live music performances and the glimmering ice-skating rink. And just when you think you've captured the true feeling of the holidays, in strolls none other than Santa himself. Make sure to snap a picture with him to capture the moment.

This year's hours are yet to be announced but check our events calendar for detailed directions and times.

Holiday Markets at River Run Village

Holiday markets are another Keystone holiday tradition. One holiday market, "Goods in the Woods," begins on December 9th this year.

On this day, talented artisans set up booths displaying a diverse selection of locally-made crafts, culinary delights, and holiday décor. If you're in the market for one-of-a-kind holiday gifts, you'll find them here.

While you peruse the market, your senses will instantly perk up by the aroma of roasted chestnuts and the sounds of holiday carols. It is an event you won't forget.

Your visit not only adds to the magic of the night but also supports local businesses.

Honorable Mention: Mountain Top Snow Fort

Although not technically an event, Snow Forts are a big part of Keystone's holiday magic.

The fun begins before you even get to the fort. First, you'll take the most breathtaking Gondola ride to the mountain top. You should close your eyes for this because the most breathtaking snow fort you've ever seen is just over the peak.

But this isn't your ordinary igloo. Keystone's snow fort is massive and includes an intricate network of slippery slides and winding tunnels. While exploring every twist and turn, you'll discover numerous hidden passageways where you'll bump into other families enjoying the adventure. Your family will love the immersive experience.

Remember, this snow fort is real, and it's frigid. Make sure to bundle up and enjoy the fun comfortably.

New Year's Eve Fireworks

Are you ready to ring in the New Year at Keystone? Mark your calendar and make your way to our resort for the unforgettable New Year's fireworks spectacular.

As the clock approaches midnight, the steady footsteps of eager spectators begin to pick up as they make their way to River Run Village.

Together, they count from 10 to 1, signifying the end of another memorable year and the beginning of Keystone's pyrotechnic extravaganza.

Watch the star-filled night sky transforms into an explosion of bright colors and bursting shapes. Below it, the reflection creates a light show of its own, displaying colorful sparkles on the ice. This event is for everyone, so bring your bestie and take lots of pics.

The event begins at 7PM. Visit our events page for more details.

Unveiling of the Bergman Express Lift

Are you ready for even more Keystone fun? If so, we have just the thing – the much-anticipated Bergman Bowl. The new Bergman Express lift gives you a bird's eye view of over 550 acres of snow-capped trees and ice-covered trails throughout Bergman and Erickson Bowls. Zig and zag through the breathtaking glades and brace yourself as you enter the wide-open bowl turns – this part is truly spectacular.

There will be plenty of festivities during the Bergman Express lift unveiling, which will take place in the 2023/2024 ski season.


Get Ready for Holiday Magic at Keystone
By now, you're probably excited and wishing the fun would begin sooner – and the good news is – it can!
Visit
Keystone Resort
as early as October to experience a magical winter in the mountains.
Book your stay
at one of our comfy hotels and enjoy some time on the slopes with your friends or loved ones. Our Stay Where You Play reputation is why so many people choose to visit Keystone year after year.
Make your tracks in the snow at Keystone to kick off a memorable holiday season.