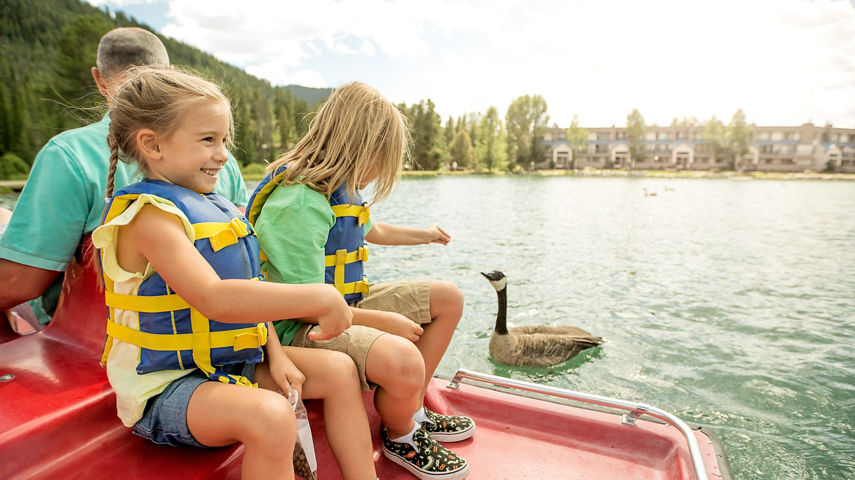 Summer mountain operations take place Wednesdays through Sundays beginning June 22 through Labor Day, Sept. 5.
Mountaintop SNOW Tubing
You heard us right. Mountaintop SNOW tubing returns to Keystone this summer. Ride up the River Run Gondola and access the same tubing hill that operates at the resort during winter. Our resort teams farm snow from around the mountain to maintain the tubing hill so that guests can chill, cool off, and go for a slide this summer season. Open as long as the snow lasts!
Keystone Bike Park: It's All Downhill from Here
From downhill on snow to downhill on dirt, the Keystone Bike Park offers some of the country's best downhill mountain biking, allowing guests to experience the adrenaline rush of sending it down the mountain in summer. With more than 30 trails of lift-serviced singletrack, beginner and expert riders alike can experience the thrill of downhill on two wheels from mellow bridges and berms to rock gardens and rock drops.
This summer, downhill mountain bike racing returns to the Keystone Bike Park with the Revolution Enduro. Keystone will be the third stop in the series, taking place July 9-10. Spectators are welcome to join in the fun by watching the race in designated areas and cruising through the sponsor village.
Lakeside Village: Water You Waiting For?
The tranquil and serene Lakeside Village is nestled along the winding Snake River and the Summit County bike path. At the center of the village, the 5-acre Keystone Lake offers a variety of fun on the water with canoes, pedal boats, and paddle boards, all available to rent! The nearby Keystone Lodge & Spa also offers a full-service hotel with on-site spa, fitness facility, restaurant and bar. Festivities at Lakeside Village kick off Memorial Day Weekend, offering a hub water-side fun all summer-long.
Festival Season: Bacon, Brews, Wine, Live Music
Keystone's 2022 Summer Festival line-up has a wide variety of music and events for the whole family to enjoy! Check out the full schedule here.
Keystone Bacon & Bourbon Festival, June 25-26 This two-day summer kick off features bacon-themed food dishes, live music from national acts, bacon from your favorite companies, and the famous TINCUP Whiskey Tour for Hungry Hog ticket holders.
Keystone Wine & Jazz Festival, July 16-17 Raise your glass to another year of Keystone Wine & Jazz Festival in River Run Village, with hundreds of varieties of wines to sip and savor. Frosted Flamingo, The Cave of Confusion, and face painting are available to help keep the littles entertained.
Keystone's 25th Annual Bluegrass & Beer Festival, Aug. 6-7 Keystone brings back the Bluegrass and Beer Festival for its 25th year of string bands, craft beer pours, mountain merch, and melt-in-your-mouth morsels. Frosted Flamingo crafts, The Cave of Confusion, and face painting are back to help keep the littles entertained.
Keystone Golf: Two Championship Courses, One Great Resort

Keystone Resort is home to two distinct golf courses, offering 36-holes of championship golf in one idyllic setting. The River Course offers impressive elevation changes, variable bunkers, water hazards and six sets of tees on each hole to challenge and welcome golfers of all ability levels. Keystone Ranch Golf Course is set on historic ranch land where original structures and old western heritage remain throughout the course, providing a nostalgic feel amongst the breathtaking scenery.
Keystone Stables – Explore the Historic Soda Creek Valley
Keystone's signature Dinner Wagon Ride and Scenic Sleigh Ride provide a trip back to yesteryear. The journey begins with a wagon ride through the quiet expanse of the Soda Creek Valley, while charismatic and charming wranglers share the local history of the area's mining days. Upon arrival at a historic homestead-era log cabin built in the early 1800's, a roaring fire, dinner, entertainment and the rustic charm of the past awaits. For those looking to adventure a little further, guests can saddle up and embrace Keystone like an early explorer via a guided horseback ride. During the ride, observe wildlife, learn about the area's history and take in the amazing sights of the White River National Forest.