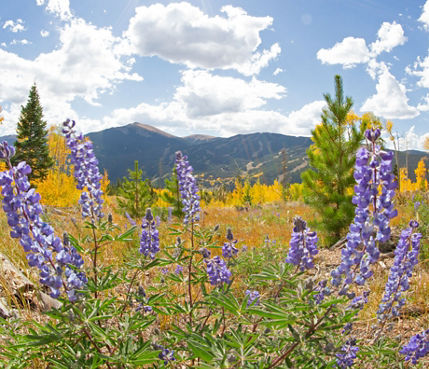 As a guest at the Keystone Resort, it's understandable if you plan to spend your entire vacation there. The resort offers everything, from scenic Gondola rides, mountain biking, and golf to hiking and Lakeside Village activities. However, if you love nature's beauty, you should also explore Keystone wildflowers.

Keystone, which lies in the center of Colorado, is endowed with a variety of stunning meadows and pathways that let you fully appreciate the splendor of its wildflowers.

Continue reading to find the top wildflower hikes in Summit County and how to get them from Keystone Resort.

1. Schoolmarm Trail: A Wildflower Paradise

Embark on a scenic adventure along the Schoolmarm Trail, where wildflowers paint the landscape with vibrant colors. This moderate trail stretches for approximately 3 miles, offering a delightful hiking experience for nature enthusiasts.

Keep an eye out for plants like columbines, lupines, and Indian paintbrushes as you go along the route. The trailhead is conveniently close (1 mile) to Keystone Resort making it a perfect location to walk to before retreating back to the resort for some summer snow tubing.

The path rewards hikers with breathtaking vistas and the opportunity to take in the splendor of wildflowers. Pack some water, lace your hiking boots, and prepare for a fascinating trip down the Schoolmarm Trail.

Another great thing about this trail is that it's kid-friendly. It's relatively flat and wide, making it easier for the young ones to keep up without straining.

2. Dercum Summit Trail

Embark on a captivating journey through nature by heading to Dercum Mountain, which is part of Keystone Resort. Along with breathtaking views of the mountain, the picturesque Dercum Summit Trail route also features a stunning display of wildflowers.

The exquisite columbines, sunflowers, and other native flora that cover the landscape with vivid colors will fascinate you as you hike. The trail, which is 2.3 miles (round-trip) long and has moderate difficulty, is accessible to and pleasant for hikers of all experience levels. For a secure and enjoyable journey, remember to carry water, wear comfortable but durable shoes, and follow all trail safety instructions.

To reach Dercum Mountain from Keystone Resort, you can take the River Run Gondola and then hike the Decrum Mountain Trail to the top. Following the trail is easy as it's well maintained. If you want a more challenging journey, consider biking to the summit.

Dedicate 1.5 to 2 hours after arriving to explore the route, giving yourself time to savor the wildflowers and appreciate the area's serenity.

It's a remarkable adventure that combines exercise, natural beauty, and the joy of wildflower sightings. Considering you'll have to commit a few hours for this excursion, consider booking a relaxing spa session for when you return.

3. Old Dillon Reservoir Trail

Nestled in the tranquility of the mountains, the Old Dillon Reservoir Trail offers a captivating blend of alpine beauty and wildflower enchantment, all within close proximity to Keystone Resort. Embark on this 1.7-mile trail to immerse yourself in the stunning scenery and vibrant blooms that adorn the landscape.

As you wander along the Old Dillon Reservoir Trail, you'll be greeted by a diverse array of wildflowers, creating a picturesque tapestry of colors. From delicate wild roses to majestic bluebells and cheerful daisies, nature's artistry unfolds at every turn.

The trail's gentle incline makes it accessible to hikers of all experience levels, making it an ideal family-friendly excursion. Whether you're an avid photographer or simply seeking a peaceful escape, the Old Dillon Reservoir Trail promises a memorable and rewarding journey.

The trailhead is 7.2 miles from Keystone Resort, allowing you to venture into this mountain sanctuary with ease. Pack your camera to capture the beauty around every corner, and don't forget to bring water and wear comfortable hiking shoes for a delightful outing.

Discover the serenity of the Old Dillon Reservoir Trail and savor the harmonious blend of wildflowers and mountain vistas. Experience the magic of Keystone Colorado's natural wonders, all within reach of your base at Keystone Resort.

4. Ptarmigan Trail

For an invigorating alpine experience amid a wildflower wonderland, the Ptarmigan Trail is a must-visit destination near Keystone Resort. This picturesque trail offers an enchanting escape into the heart of the Rocky Mountains, showcasing a breathtaking array of wildflowers along the way.

Stretching approximately 4.6 miles, the Ptarmigan Trail caters to intermediate hikers seeking a rewarding challenge. As you ascend, you'll be greeted by stunning vistas of the surrounding peaks, complemented by the vibrant hues of wildflowers that line the trail.

The captivating landscape comes alive with flora, including delightful columbines, striking fireweeds, and charming wild geraniums. Every step brings you closer to nature's artistry, providing ample opportunities for memorable photographs.

To reach the trailhead (10.4 miles away), take a short drive from Keystone Resort, making it easily accessible for a half-day or full-day adventure. Remember to carry sufficient water, wear sturdy hiking footwear, and heed trail safety precautions.

Explore Ptarmigan Trail's alpine grandeur and the kaleidoscope of wildflowers that grace its path. Discover the natural treasures that Keystone Colorado has to offer, just a stone's throw away from the comforts of your base at Keystone Resort.

5. Willow Creek Falls

Indulge in the tranquility of nature's beauty at Willow Creek Falls, a hidden gem nestled near Keystone Resort. This scenic trail offers an enchanting journey through lush meadows adorned with a colorful display of wildflowers.

Covering approximately 1.4 miles, the Willow Creek Falls trail caters to hikers of various skill levels, making it an excellent choice for families and adventurers alike. As you amble along the path, keep an eye out for delicate columbines, vibrant Indian paintbrushes, and cheerful sunflowers that grace the landscape.

You'll only need to drive for 25 minutes as the trailhead is 15.3 miles from the resort. Therefore, you can start your floral adventure within minutes. Embrace the serene ambiance as the soothing sounds of the creek accompany you along the way.

Make sure to bring your camera to capture the picturesque vistas and snapshots of the blossoms that dot the surroundings. Remember to pack water, wear comfortable hiking shoes, and observe all safety guidelines for a pleasurable outing.

Embark on this delightful journey to Willow Creek Falls, and immerse yourself in the captivating beauty of Keystone Colorado's wildflowers, all within reach of your base at Keystone Resort


Discover the Wildflower Wonderland of Keystone Resort
When it comes to natural beauty, Keystone is second to none. And Keystone, Colorado, wildflowers best exemplify this. As you walk through the trails, you'll also enjoy other stunning views and exercise, making it an ideal adventure for the family.
Now that you know the best wildflower hikes in Summit County, the only thing left is to make arrangements to visit.
Once you're back from your Keystone wildflower excursions, plenty of
fun-filled activities
will be waiting for you at Keystone Resort.