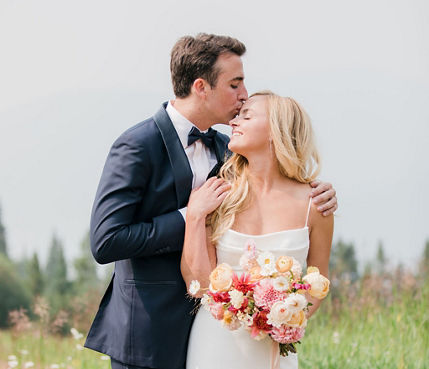 Nothing says "romantic" like the scenic mountain views of Keystone Resort. Whether you're looking for a rustic cabin vibe or a close-to-nature on-mountain venue, there are Keystone wedding venues for every couple's needs.

With access to a wide range of group activities, restaurants, lodging, and transportation, Keystone has all of the ingredients you need for a stunning destination wedding. Keystone Resort is the ideal wedding destination for a breathtaking wedding day.


Venues with Stunning Mountain Views and Breathtaking Scenery
Keystone offers the perfect location for cozy and intimate weddings, with several venues for small-to-mid-size weddings. With a mountain feel and breathtaking views, Keystone is the perfect location for the intimate wedding of your dreams. No matter what time of year you want to get married, there's a venue at Keystone waiting for you.
Keystone Ranch
Keystone Ranch
is amongst the most popular Keystone wedding venues for an intimate feel. This historic ranch building offers rustic elegance housed within an original homestead property from the 1930s. Available year-round for weddings in any season, this stunning venue features a centerpiece fireplace perfect for a cozy and intimate wedding. From summer ceremonies on the lawn to romantic winter ceremonies indoors, this venue is truly multifunctional and can accommodate weddings of up to 120 guests.
In addition to an unmatched atmosphere, a
Keystone Ranch wedding
means you'll have access to some of the top-rated food in the area. Keystone Ranch has received many awards for its delicious food and beverage options inspired by mountain cuisine. With a rotating selection of seasonal favorites and classic steakhouse dishes, Chef Kevin Simley's award-winning food will surely impress your wedding guests.
Ski Tip Lodge
Ski Tip Lodge
is another picture-perfect location for your outdoor summer or indoor winter wedding at Keystone Resort. Wedding ceremonies at this venue are held outdoors in the patio/lawn area, offering views of the rustic Swiss lodge in the background. On the other hand, winter weddings can be held indoors by the cozy stone fireplace, with access to the main dining room or quaint library for stunning wedding photos. This venue is available for weddings from June through October.
After your wedding at Ski Tip Lodge, guests of your wedding party can enjoy a cozy stay at the Lodge's 9-room bed & breakfast. Perfect for your bridal party, this historic building offers a cozy welcome with the perfect mountain feel. In addition, other guests of your wedding have access to Keystone's plentiful lodging options with complimentary transportation. Hotel shuttle services make it easy for guests staying at different lodging options to meet up and take advantage of
Keystone Resort's activities
.
Venues to Easily Accommodate Large Wedding Groups
Timber Ridge
Timber Ridge
is an excellent choice for a large Keystone, Colorado wedding, with the ability to accommodate up to 300 guests. Ceremonies are held outdoors on the wooden deck, featuring mountain views of the Tenmile and Gorge ranges. Timber Ridge is available for weddings from June through September.
Guests can then enjoy a lively cocktail hour on the patio deck, before heading inside for the reception. The high-vaulted ceilings and cozy center fireplace of this mountain lodge add the perfect atmosphere for your reception.
Easy Guest Transportation
With access to Keystone's
Epic Mountain Express
, planning wedding transportation for your guests is a breeze. The Epic Mountain Express provides round-trip transportation for guests flying into Denver International Airport, as well as around-town transportation. When you book your Keystone Colorado wedding at a Keystone Resort venue, we'll work with you to ensure all of your guests' transportation needs are accounted for.
Great Wedding Lodging Options at Keystone Resort
Keystone Resort's plentiful lodging options are yet another reason why Keystone is the ideal wedding destination. With your venue, transportation, and lodging all in one place, your wedding group has everything they need to have the best and most memorable time possible. Keystone's
Lakeside Village Condominiums
are a popular option for guests who want to explore lakeside activities during their stay, including paddle boarding, boating, and more.
Meanwhile, wedding guests who seek a more luxurious hotel-like atmosphere enjoy stays at
Hyatt Place Keystone
. This top-tier hotel is situated within walking distance of the Mountain House Base Area, ideal for access to all things skiing. For winter weddings especially, you can't go wrong with the accommodations provided at Hyatt Place Keystone.
Fun-Filled Activities for your Keystone Wedding
Who says the fun has to stop after the wedding day? No matter which of these Colorado wedding locations you choose, Keystone Resort has plenty of fun-filled activities for your guests to enjoy. All Keystone guests are provided complimentary shuttle access throughout the resort, making it easy to access activities and dining. Our resort planners can help you build a custom itinerary for group activities for your guests no matter what season your wedding is in.
The
Keystone Spa & Salon
even offers specialty wedding spa packages to make you feel your best on your special day. At the salon, you'll find expert bridal hair & makeup packages offered by the most talented beauty artists. Wedding parties who wish to take advantage of the Keystone Spa & Salon can stay right at the
Keystone Lodge
, a full-service hotel with stunning views of the Keystone Lake and the Snake River. Staying at this luxury lodging option provides yet another opportunity for wedding party photos, with a Keystone Lake wedding venue background.
Find Your Colorado Mountain Wedding Venue
Keystone, Colorado, is the perfect place to start a host the wedding of a lifetime. With breathtaking views, award-winning food options, and options for both big and small weddings, Keystone is a great choice for nearly any destination wedding. Right here at Keystone Resort, couples have several of the best wedding venues to choose from, complete with spectacular mountain views.
To book your Colorado mountain wedding venue,
contact our group sales team today
! We can't wait to help you find the perfect venue for your Keystone wedding.