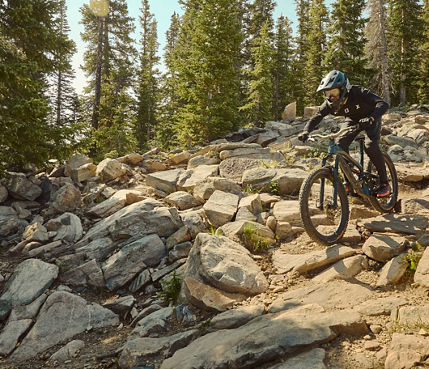 When summer hits, ski hills transform into fields of wildflowers and incredible vistas. The Keystone Resort offers plenty of summer fun, including Keystone mountain biking adventures.

Since most of the trails are downhill, you'll need to take a lift to the top of the trails. Investing in a bike haul pass is a good idea so you can spend the entire day going up on the lifts and biking back down the mountain. Getting to the trail heads this way is easier, particularly if you're hitting the downhill-only trails.


Mountain Biking Keystone, CO Rental Shops
If you don't have a bike, renting one is always an option. Rental bikes are a great way to test different models and see which one you like best for Keystone mountain biking.
At
Keystone Bike Rentals
, you have several options for renting bikes. Choose from adult and children's bikes, both trail and downhill models. Depending on the type of cycling you're interested in, you can select the proper bike for your needs. There are even e-bikes, which give you a little assistance when riding up a hill. They're ideal for anyone with slightly limited power in their legs and can help you enjoy the trails just as much as everyone else.
Mountain Biking Near Keystone
Keystone is a beautiful area, both in the winter and in the summer. While several summer activities are available,
Summit County bike trails
are among the most popular. You'll find bike trails in Frisco and up Keystone, and you can always cycle around town, too.
Summit County Bike Trails for Beginners

These Keystone Colorado mountain biking trails are ideal for beginners or anyone who wants a calmer ride. There are several easy trails, but some are better than others.
Beans for Breakfast

Perfect for brand-new mountain bikers, this trail is short and simple, with some rolls, dips, and banked turns. It connects two parts of Jackstraw Road and is only 0.12 miles long.
Celtic Way

Celtic Way is a twisty trail that will provide plenty of practice. It crosses several ski trails but curls its way through pine forests, offering the best open and forested trails.

This downhill-only trail can be completed in around 3 minutes, so it's a good choice for kids and those just getting the hang of things. Head up Jackstraw Road until you reach the Boy Scouts trail to access it. A short distance above this, it turns into Celtic Way.
Bluegrass

When you turn off to Celtic Way, you can also head down Bluegrass. This trail is a short run through the lodgepole pines that grow readily here and crosses a few ski trails. It's a pleasant ride without too many curves or much incline.
Medium Difficulty Bike Trails in Keystone

If you're up for something more challenging, you'll love the Frisco area's medium-difficulty or blue square bike trails.
Eye of the Tiger

As a bikes-only and downhill-only trail, Eye of the Tiger is one of the most popular mountain bike trails at Keystone. It's best known for being rocky, but the steep descent offers a challenge. It's not for beginners because of the fast-moving nature of the trail and the rocky environment.

This trail is at the higher end of medium difficulty; some even consider it difficult. Be aware of this before you head out. You can access it by heading to the Girl Scout/Suz's Cruise crossing.
Mosquito Coast

Mosquito Coast is a good choice for a real mountain biking experience without technical difficulty. It's a fast switchback trail with excellent dirt and plenty of forested areas, which keep the trail cool. You should expect trees and roots along the way and some pretty serious turns.

To reach the Mosquito Coast trail, head to Suz's Cruise. It starts at the bottom of the sister trail but is considerably more exciting.


Challenging Keystone Colorado Mountain Biking Trails

Finally, we come to the most challenging bike trails for those interested in Keystone Colorado mountain biking. These should only be tackled if you are confident in your abilities.
Paid-in-Full

If you want a longer ride, Paid-in-Full is a nearly 10-minute ride that drops 1,118 feet in altitude. It has a little bit of everything, including switchbacks, berms (some machine-made), tabletops, and even a few doubles. This downhill-only trail features a ladder drop right under one of the lifts.

To reach this trail, you'll need to take the Summit Express to the top, then ride down Cowboy Up, turning into Holy Diver, before it merges into Paid-in-Full. These are all black square trails.
Wild Thing

Technical riders will love this narrow single-track with rock drops and steep sections. It's also filled with tight, twisty turns to keep you on your toes. Overall, it's a pleasant ride but requires skill and concentration to ensure safety.

Wild Thing can be accessed via the Boy Scouts trail, giving you an easy warmup.
Jam Rock

Some mountain bikers prefer jumps, and this is the trail for them. Featuring five large jumps and plenty of rocks, Jam Rock gives you lots of practice. It's not very curvy but still gives plenty of challenges in the form of terrain.

You can access Jam Rock from Jackstraw Road or take the Summit Express up. Come down via High-Speed Dirt, a great trail in its own right.
Sanitarium

Challenge yourself with one of the most difficult Keystone mountain biking trails. Sanitarium is not for the weakhearted. In fact, it's downright insane once you get started. You'll need a lift ticket to get to the top of the trail, and from there, you will drop down into an optional skinny-to-drop area.

There are trees, rocks, and ski run crossings here, but the real excitement is the incredible corkscrew trail. You'll enjoy more technical riding and a steep, narrow bridge.
Time for Adventure with Summit County Bike Trails
Now that you've heard about the exciting trails featured around
Keystone
, it's time to experience them. Pick which Keystone mountain biking trails to try, book your trip, and enjoy the challenge of the mountain for yourself.