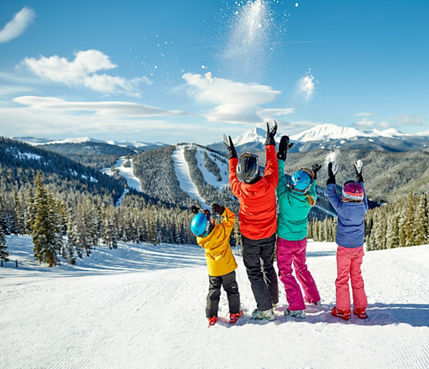 Looking for an amazing family vacation destination that has something for everyone? Look no further than Keystone, Colorado! This world-class ski resort is perfect for families. In addition to outstanding skiing and snowboarding facilities, there are plenty of other activities to keep everyone in the family entertained.

With convenient lodging options and plenty of dining and nightlife, you'll have all you need for the perfect mountain getaway. So pack your bags for the perfect Keystone family vacation.

Snowboarding and Skiing for All Levels

Whatever level you are, Keystone has something for you. Beginners can enjoy an introduction to a classic winter sport in a supportive environment, while experts can carve out deep tracks through challenging terrain. With 3,128 feet of elevation and 130 runs, the mountain has plenty of room for everyone to find their own levels of comfort and challenge.

You can even keep the fun going into the night. Keystone is one of the few ski resorts to offer nighttime skiing and snowboarding on holidays and weekends. Head to River Run base and get in more than three extra hours of downhill excitement with lifts that don't close until 7PM.

Expert Instructors for All Ages and Abilities

If you want to learn how to ski or just want to refine your technique, Keystone has expert instructors to help you meet your snowscape goals. Little ones as young as three or four can participate in group lessons for preschoolers with no more than four students at a time. And older kids and adults can join their own groups for half or full-day lessons.

The Keystone staff is committed to getting you ready to explore the slopes on your own. The Green Run Guarantee promises that you'll be able to tackle qualifying green runs in three lessons — or your fourth lesson is free. Intermediate and advanced lessons are also available.

If you want to customize your experience, you might prefer to schedule a private lesson for one to six people.

Awesome Activities for the Whole Family

Winter doesn't have to be all about skiing and snowboarding! If you're looking to add a bit of variety to your Keystone family vacation, plenty of other options are available. For instance, you don't have to be a skier to enjoy top-of-the-mountain views with a scenic gondola ride. It's the perfect speed for both your oldest and your youngest family members. Once you're at the top, you might grab next year's Christmas card photo or simply let the kids explore in the world's largest mountaintop snow fort.

If you want to speed downhill in a different way, try mountaintop snow tubing. With multiple lanes, your family can race to the bottom. Alternatively, you can stay on flat ground and help your kids burn off some excess energy with snowshoeing or cross-country skiing at the Keystone Nordic Center. Or tie on some ice skates at Lakeside Village, where you can also try curling or hockey.

Ready to sit back and enjoy a scenic trip? Take a sleigh ride — it's an exciting way to explore the countryside and admire magnificent Rocky Mountain views. And if that's too relaxed for you, you can add an extra thrill to your vacation with some Summit County snowmobiling.

Keystone's Childcare Center

Keystone's childcare center provides the perfect indoor escape for children who are a bit too young to hit the slopes or those in need of a day off. Prepare your kids to have loads of fun in a cozy and safe environment, and then hit the slopes worry-free. Experienced caregivers are there to guarantee your child's safety and entertainment.

Me-Time Opportunities for Mom and Dad

A Keystone, Colorado, family vacation includes opportunities for Mom and Dad to steal some time for themselves. You might recover with spa services, which are especially nice for muscles sore from skiing.

While there are plenty of full-family après-ski opportunities and dining, you can also find great options for a romantic dinner or catch-up sessions with friends. It's up to you whether you want to take the children to award-winning restaurants such as Ski Tip Lodge or Keystone Ranch. Kids' menus make it easy to include younger eaters in a fine-dining experience, but they also make sensational spots for an adults-only date night.

Year-Round Fun

Keystone Resort is a delightful place to visit, no matter the season. Sensational views accompany every month of the year, and there are always plenty of activities for everyone. For one thing, the ski season extends well into the spring, and more moderate temperatures bring added comfort to the downhill experience. And in the fall, the scenic gondola ride will give you a birds-eye view of autumn's stunning colors.

In summer's warmer months, you might take a hike or paddle about the lake with the kids. Head to Keystone Stables and saddle up or hitch a ride in a covered wagon. Go to River Run Village for summer activities such as mini golf, bungee trampolines, and panning for gold and gems. Golf, tennis, and mountain biking are also available.

Plus, you can always spend time in the town of Keystone itself. Its charm emanates throughout its winding roads and historic buildings. Take a stroll, explore its quaint shops, or sample the delicious local cuisine.


Plan Your Keystone Family Vacation Today
Keystone Ski Resort is the wonderful destination for family groups. In addition to accommodating all skiing and snowboarding levels, it provides tons of alternative winter activities. Your only struggle will be choosing between ice skating, tubing, snowmobiling and countless other options.
In addition, Keystone Resort offers numerous ways to fill your days year-round — both on-site and off. So what are you waiting for?
Plan your Keystone family vacation
now and create fantastic memories that will last a lifetime!