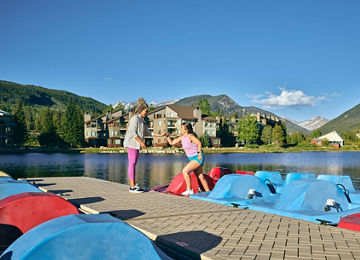 From thrilling outdoor adventures to immersive learning experiences, every day of your Keystone summer experience can offer something new to explore. A stay at Keystone Resort puts you and your family minutes away from some of the best summer activities in Colorado, with options for every interest and skill level.

Make the most of the longer days and warmer weather by trying some of the top summer activities at Keystone, such as Keystone Golf and activities at Lakeside Village. Experience adventure for yourself with these can't-miss Keystone summer activities.

Keystone Bike Park

A Keystone summer favorite is mountain biking. Create unforgettable memories filled with sunshine, mountain views, and adrenaline. From the green runs for beginners to the double black trails for extreme bikers, there's a bike trail for every rider at Keystone Bike Park. This bike park offers visitors many choices, from technical rock gardens and drops to high-speed features.

In the summer, Keystone Bike Park is one of the most popular things to do in Keystone, CO, offering 55 total bike trails to choose from. Experienced bikers also know this spot for the renowned Drop Zone, rated one of the best in the country.

Keystone Golf

Golf is one of the most popular Keystone summer activities, and Keystone Resort is the perfect place to play! Experience one of the nation's most respected golf destinations with access to 36 breathtaking holes. During your Keystone summer vacation, enjoy two distinct styles of play: the River Golf Course and Keystone Ranch Golf Course.

The River Golf Course features a challenging par-35 front nine and par-36 back nine, with impressive elevation changes and water hazards. Plus, players can take in stunning views and see local wildlife while on the course. Or, test your skills on the Keystone Ranch Golf Course, which sits on a historic ranching land from the 1900s.

Whether you're a casual or experienced golfer, Keystone's golf courses offer plenty of fun for your Keystone Colorado summer.

Keystone Stables

Add Keystone Stables to your Keystone, Colorado, summer plans for horse-drawn wagon rides or guided horseback rides. At Keystone Stables, visitors can explore the picturesque Soda Creek Valley while learning about the region's rich history.

A wagon ride dinner a Keystone Stables is a great choice when looking for summer dinner options in Keystone in the summer, as it offers an immersive Wild West experience. After traveling to dinner in style aboard a horse-drawn wagon, enjoy live music while dining on a hearty meal at the Keystone historic homestead. This one-of-a-kind experience is great for visitors of all ages!

Lakeside Village Activities on Keystone Lake

Keystone's Lakeside Village is the go-to spot for all your favorite Keystone summer activities. Outdoor and nature lovers can try paddle boating, canoeing, kayaking, and other recreational activities right from this activity hub. In the summer, stand-up paddleboards are also a popular activity for the whole family to enjoy.

From the Lakeside Village, visitors can also walk or bike the Snake River Trail, a 4.7-mile out-and-back trail for a moderately-intense challenge. Or, while you're at the Lakeside Village, challenge your group to a game of giant Jenga, giant checkers, cornhole, or other free yard games. Guests also enjoy lounging in the hammocks throughout the area.

Keystone Neighborhood Company Festivals

Taking place throughout the summer, you won't want to miss Keystone Neighborhood Company Festivals in River Run Village. From the popular Bacon & Bourbon Festival to the Wine and Jazz Festival, visitors can enjoy food, music, and more at these vibrant Keystone summer events. Another popular festival, the Art Festival, takes place every July and features over 80 artists' displays with the finest works from the area.

Before your visit, check out which Keystone Festival is taking place during your travel dates and view the festival schedule for planning. Be sure to purchase your Keystone Neighborhood Company Festival tickets online in advance, as these popular summer festivals often sell out.

Lake Dillon

Located just 10 miles east of Keystone Ski Resort, Lake Dillon is another popular must-do for summer activities in Colorado. The Lake Dillon Reservoir features plenty of great summer activities, such as the Historical Boat Tour. This tour offers 360º views of the mountains and an exciting lesson on the Town of Dillon's history. Perfect for the whole family, a boat tour on Lake Dillon is your place to create unique vacation memories.

The Dillon Amphitheater is another spot to explore, offering live music at an outdoor lakeside stage. Explore the diverse offering of upcoming events while you visit, including popular music artists from all over the country.

Explore Summer Activities at Keystone Resort

There's no shortage of distinctive summer activities at Keystone Resort. Whether you test your golf skills at one of two Keystone Golf courses or attend a summer Keystone Neighborhood Company Festival, you'll never run out of activities at Keystone Resort. With so much to explore, all that's left to do is plan your next visit. Discover more activities and book your summer getaway at Keystone Resort today.