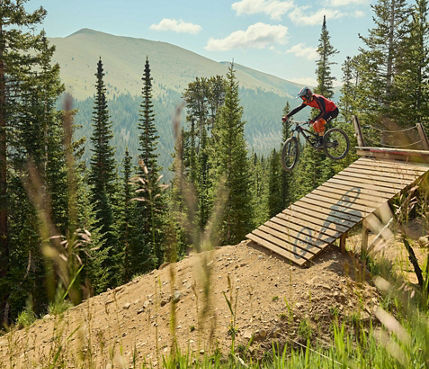 If you're looking for the best mountain bike parks in Colorado, Keystone Resort mountain biking park is the best downhill mountain biking in Colorado — it's the reigning royalty of the summer slopes for good reasons. While some mountain bikers head to the buffed-out trails for smooth downhill biking, Keystone Bike Park is one of Colorado's original mountain biking parks with endless gnarly trails. Tree roots, jagged outcroppings, and narrow, demanding jumps are just the beginning. Adventure awaits should you want to add this Keystone downhill mountain biking challenge to your bucket list.


Keystone's Best Routes


From beginners to mountain biking experts, Keystone downhill mountain biking offers a trail for every level of fitness and technical navigational skill. Best of all, in the event of an emergency, assistance is not far away.

In addition to Keystone's unique wooden creations, such as Sanitarium's iconic, 10-foot-tall corkscrew, here are the trail routes that explain why Keystone Bike Park should be on your bucket list.

Recommended information:

Girl Scouts Trail to Let It Ride Trail to Celtic Way Trail

Difficulty: Easy

This is an ideal trail for those who are just embarking on their mountain biking journey. Most of the route isn't technical, but some unavoidable obstacles are around two inches high.

The entire trail route from bottom to top and back is:
Girl Scouts
Suz's Cruise
Let It Ride
Celtic Way
Bluegrass Trail
Sleepy Hollow Trail
Keystone Bike Park's reputation hangs on its massively gnarly downhill trails, but this beginner's trail proves that almost anyone of any skill level can have a blast mountain biking at Keystone.


Eye of the Tiger Trail to Mosquito Coast Trail

Difficulty: Challenging

This route is stable for the most part, but it has some larger obstacles, some of which are not avoidable, such as:
Large stones
Tree roots
Wooden stairs
Tight turns
Compared to some of the more intermediate trails, this route is rated at advanced technical difficulty with steeply graded slopes.

The Eye of the Tiger Trail starts at a fast, steep drop through webs of tree roots and rock gardens. The turns, many of which have high berms, are tight as you slalom down the side of the mountain through jumps and chutes.

As you reach mid-mountain, the trail becomes a bit more mellow, smooth, and flowing. However, that doesn't mean you should become complacent and admire the scenery. Even here on the "mellow" side, these trails can be a bit chunky. Be prepared for the smooth sections to be nothing more than a moment to catch your breath before your next tabletop jump, followed by a sharp descent through rocky outcroppings. It's breathtaking, and sometimes riders should be better prepared for it.

If you're not used to this type of biking, you should take it easy the first few times on this route and use Eye of the Tiger or the Mosquito Coast Trail as practice for the more difficult routes.


Cowboy Up Trail to Holy Diver Trail to TNT Trail to Paid in Full Trail to Wild Thing Trail

Difficulty: Extreme — Experts only

From the very first twists and turns on this route, you'll see it's not for the faint of heart. Time to Cowboy Up! The trails are highly variable and narrow. The grades are much steeper, and obstacles include outcroppings of 15 inches or less and bridges up to two feet wide. Large stones, gravelly conditions, and craggy tree roots make this the route for expert mountain bikers in search of the challenge of a lifetime.

This Keystone Bike Park route is long, sure. But once you're shredding down the mountain, you can appreciate this specific combination of trails. Logically, it works. From top to bottom, it's an incredible black diamond course.


Milky Way Trail to High-Speed Dirt Trail to Jam Rock Trail

Difficulty: Severe — Advanced Experts only

The route from Milky Way Trail to Jam Rock is pretty steep. The narrow, single-bike width of the track is incredibly unpredictable and often has widely varied conditions. Certain obstacles you'll encounter are 15 inches tall or more and unavoidable, and some can result in profound consequences if not maneuvered properly.

The route is considered the park's most iconic — it's a double black diamond. It's best to approach Milky Way, High-Speed Dirt, and Jam Rock Trails with healthy respect.


On and Off the Trails at Keystone
Keystone Bike Park offers 28 professionally maintained downhill bike trails.
Keystone's trail system is massive. In fact, it's one of the largest mountain biking trail systems in the entire United States. Keystone Bike Park has over 100 route miles across 55 trails, all with lift service. Some trails are natural, while others include wooden bridges and other crafted elements.
Off the trails, though, Keystone is just as exciting. The village of Keystone offers several paved recreational areas for walking, jogging, or cross-country biking. Is road biking more your style? Keystone Bike Park is located right along Summit County's recreational path, with miles of on-road biking available. The Keystone Adventure Center offers bike rentals of all types. Feel like tubing instead? Check out
Summer Snow Tubing
!
Contact us to learn more about Keystone Bike Park, the resort, and the surrounding community by calling
(970) 754-0005
or clicking on the live chat support button in the bottom right.