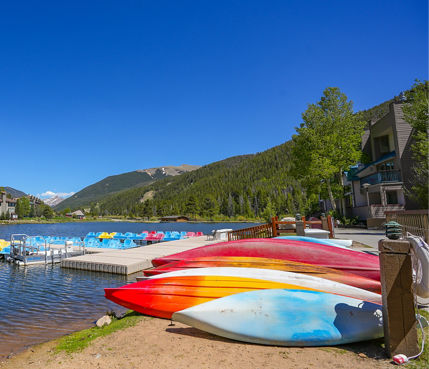 Summer in Keystone is spectacular, with sunny skies over the Rocky Mountains scenery all but guaranteed. Plus, locals and visitors can pursue an array of fun outdoor activities exclusive to the season. These include kayaking at Keystone, Colorado, and on the clear, cool waters of Lake Dillon (aka Dillon Reservoir), just 5 miles from the resort.

Kayak rental packages are available at both Keystone Lake on the resort property and at two marinas on the reservoir. You might choose a group tour to benefit from expert guidance while kayaking on Lake Dillon. Both DIY and guided kayaking in Keystone, CO, are fun for all ages and abilities. The adventure promises amazing views, wildlife spotting, and an unforgettable day out on the water.


Kayaking at Keystone Lake
The 5-acre Keystone Lake serves as the resort's ice rink in winter, and it remains a hub of activity throughout the summer as well. Head to Lakeside Village, where the Adventure Center offers rentals for single and double kayaks. They also have paddle boats, stand-up paddleboards (SUPs), canoes, and bicycles to rent.
Walk-ins are welcome, but it's smart to make a reservation online for kayaking in Keystone, especially if you want to get out on the lake on the weekend. Rentals are available by the half-hour or hour, and life jackets are included. You might want to purchase a bag of fish food to sprinkle in the water. It attracts the lake's impressively sized resident trout to feast around your kayak.
Kayak Rentals at Dillon Marina
Dillon Marina, a huge facility covering 25 miles of Lake Dillon's shoreline, is notable as the world's highest deep-water marina. It's on the north side of the lake, approximately 9 miles from Keystone Resort. The marina hosts Stand Up Paddle Colorado, a concession offering watersports equipment rentals, including single and double kayaks. Other options include SUPs and outrigger canoe rentals, plus guided outrigger canoe tours.
Rentals of kayaks and other equipment are generally available from late May to early September, weather and lake conditions permitting. Single and double sit-on-top inflatable kayaks are available for two-hour rentals, with paddles and life jackets included in the package. All ages are welcome to try kayaking on Dillon Reservoir, but note that swimming is not allowed.
Kayak Rentals at Frisco Marina
Frisco Bay Marina is on the southwest corner of Dillon Reservoir, about 35 minutes by car from Keystone. The marina offers a variety of kayak rentals among its full fleet, which also features canoes, SUPs, pedal boats, sailboats, and motor boats. Choose from single or double kayaks with paddles or pedal kayaks as a fun alternative. For families going kayaking on Lake Dillon, the concession has kid-sized kayaks and paddles suitable for ages 7-12. These vessels are equipped with a tether so parents can tow the kids if needed.
Reservations are available online. Complete the waiver in advance to save time at check-in. Kayak rentals are for two hours, with additional hours available on request. Frisco Bay Marina usually offers kayaking from mid-June to the end of September.
Kayak Lake Dillon with Adventure Paddle Tours
Many families and groups of friends who want to go kayaking near Keystone, Colorado, prefer to do so on a guided tour. The benefits include expert assistance with kayaking techniques, a time-tested itinerary, and local knowledge of the most scenic spots around the lake.
Adventure Paddle Tours hosts three different options for guided kayaking on Lake Dillon, all departing from the Frisco Bay Marina. The tours are all conducted using tandem sea kayaks, which are designed for optimal stability on the water. Life jackets are provided, and fleece and rain jackets are available, along with dry bags if you need them. Packages include HD photos of your adventure.
No experience is necessary, and all tours begin with a full instruction and safety briefing. The difficulty level is rated as easy for two adult kayakers who are both paddling, easy to moderate for one adult paddling with a smaller child as a passenger, and moderate to hard for two adults when only one is paddling. The maximum group size is 12 (sharing six double kayaks) plus professional guides. Choose an early morning tour for the calmest water.
Options for guided kayaking on Dillon Reservoir are as follows:
Island Tour: A two-and-a-half-hour morning tour for ages eight and up, the Island Tour is recommended for beginners. Paddle around the protected waters and shoreline of Frisco Bay, alongside Fish Hook Island with its beaver homes, and to Sentinel Island, the largest in the lake. Stop for a rest at Pirates Cove and take in unrivaled views of the Ten Mile Range. Keep an eye out for bald eagles, great blue herons, mule deer, and the occasional moose.

Sunset Tour: This serene tour departs one and a half hours before sunset, usually when the afternoon winds have calmed and the lake is calm and glassy again. Look out for eagles and ospreys as you witness the sun setting behind the mountains. The sunset tour is for ages 16 and up, and it can be quite chilly, so dress appropriately.


Family Tour: This two-hour tour is exclusively for families with children ages six and older. The kayaking tour of the protected waters of Giberson Bay is designed with families in mind, so expect it to be safe, relaxing, and entertaining.
Tips for Kayaking in Keystone, CO
Whether you're considering a DIY approach to kayaking near Keystone or a guided tour, you should thoroughly check the rental or tour company's rules and regulations. Learn about age or weight restrictions, waivers and other paperwork, and deposit requirements. Some concessions ask you to check in up to 30 minutes before your reservation time. Find out about marina parking and always check the traffic conditions — summer is peak road repair season in Colorado.
The waters of Keystone Lake and Lake Dillon are cold, and wind conditions vary from mild to extreme. Winds are typically calmer in the mornings and at their strongest in the afternoons. Even if the forecast is for a warm, sunny day, bring layers, including a fleece jacket and windbreaker, to stay comfortable on the water. Wear shoes or sandals that can get wet without becoming too uncomfortable. Bring binoculars, if you have them, for wildlife spotting. Ask about borrowing a dry bag, or consider buying a waterproof case for your camera or phone if you don't already have one.
Ready for a Summer Adventure at Keystone?
Kayaking in Keystone could be a major highlight of your summer vacation, but it certainly won't be the only one! There are so many summer activities to enjoy at Keystone. Start planning your summer vacation by visiting our website.