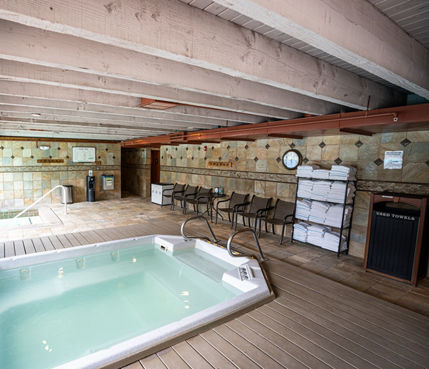 Are you looking for the perfect place to relax and recharge? Look no further than Keystone, Colorado. The best Keystone spas offer a variety of treatments, from luxurious massages and body scrubs to facials that will leave you feeling refreshed and rejuvenated. Whether you're looking for a quick pick-me-up or an all-day session, enjoy all that Keystone spas have to offer and find your inner zen today.


Alpenglow Spa
Experience the highest standard of relaxation and pampering with a visit to the
Alpenglow Spa
, conveniently located at the Keystone Lodge in Lakeside Village. Choose from 14 luxurious treatment rooms ranging from the couple's treatment room to the hydrotherapy room.
The Alpenglow Spa is open daily from 8 a.m. to 6 p.m. and offers spa services from 10 a.m. to 6 p.m. Amenities include a hot tub, steam room, sauna, and pool. Featured services include the Detoxifying Scrub & Massage, the Nuface Cellular Lift Facial, and Yoga & Fitness at Studio K. The spa is located inside the Keystone Lodge, right next to the beautiful, 5-acre Keystone Lake.
Detoxifying Scrub & Massage
Taking time for a detoxifying scrub and massage is the perfect way to pamper yourself. This treatment begins with an invigorating body scrub to remove unwanted toxins and help slough off dead skin cells, followed by a full body massage that will leave your muscles feeling more relaxed and your skin looking softer than ever. Afterward, you'll be treated to a luxurious body butter that drenches your skin in nourishing moisture — the perfect end to this rejuvenating experience.
Nuface Cellular Lift Facial
If you're looking for a way to naturally sculpt and lift your face, Alpenglow Spa's Nuface Cellular Lift Facial may be for you. This treatment gently applies microcurrents to stimulate and tone the muscles in your face, resulting in a more youthful appearance. In addition to lifting and toning, the cellular lift facial improves circulation and collagen production for radiant, healthy skin.
Yoga & Fitness at Studio K
With an array of yoga classes, including yin, restorative, and slow flow, you can find one perfect for you. Instructors are knowledgeable and friendly, paying special attention to individual needs while keeping the group atmosphere motivating and encouraging.
Can You Use the Alpenglow Spa Without Renting a Room at the Keystone Lodge?
The spa is open to the public. While some amenities are only available to hotel guests, there's still plenty for non-guests to enjoy. Call 970-496-4118 if you have any questions.
Radiant Mountain Massage
Radiant Mountain Massage
provides custom-crafted massage and skincare treatments to address a variety of needs. Their massage treatments seek to restore, replenish, and relax aching muscles. Meanwhile, their skin care services help heal and alleviate concerns stemming from environmental factors, such as sun exposure and premature skin aging. Radiant Mountain Massage is located in Dillon, Colorado, a 14-minute drive from Keystone Resort.
Crainiosacral Therapy
Radiant Mountain Massage's Cranialsacral Therapy is a gentle form of bodywork and energy work that seeks to break the compression on your head/spinal/sacrum bones. This releases tension, allowing cerebrospinal fluid to move in a subtle rhythm, resulting in greater body efficiency. It is recommended for those who suffer from physical pain, such as concussions and trauma-related injuries. It also offers tools for emotional healing, helping those seeking relief from emotional wounds.
Thai Massage
Radiant Mountain Massage's Thai Massage is an ancient healing practice that combines acupressure, Ayurvedic principles, and assisted yoga postures. The therapist will use their hands, knees, legs, and feet to move you into stretches and apply pressure to the muscle groups. Thai massage is both invigorating and relaxing.
Hot Stone Therapy
Radiant Mountain Massage's Hot Stone Therapy is a truly relaxing experience. The massage therapists at Radiant Mountain Massage use warmed Colorado river stones to relax the body and mind. These smooth stones are gently applied to specific body parts throughout the treatment to relieve muscular pain, reduce stress, and create a sense of deep tranquility throughout the muscles and joints.
Studies have shown this massage technique improves circulation and cell metabolism, making hot stone therapy an excellent choice for anyone seeking relief from physical strains or general relaxation.
Corpus Sanus
Corpus Sanus
offers therapeutic services that will leave you looking and feeling great. Massage is the perfect way to reduce stress while improving circulation and flexibility. Skincare treatments will nourish and restore your skin so you look and feel your best. Waxing boosts confidence by keeping skin soft, smooth, and gorgeous. And if you're looking for more ancient ways to health, their classical acupuncture treatments offer powerful healing benefits. Corpus Sanus is located in Silverthorne, a 17-minute drive from Keystone Resort.
Sports Massage
Corpus Sanus's Sports Massage can benefit amateur or pro athletes who want to improve performance and prevent injury. It helps the body perform better by improving circulation, reducing muscle tension, and relieving joint pain. The techniques used in sports massage involve stretching and applying pressure to specific areas of the body.
This type of massage is ideal for athletes looking to get the most out of their training and peak performance. Sports massage is also beneficial for those seeking relief from chronic pain from an illness or injury, such as arthritis in joints. With professional help, athletes can reap the rewards of improved physical ability that comes with increased blood circulation and reduced tension-pain.
Pain Management Massage
Corpus Sanus's Pain Management Massage is an effective way of treating chronic pain due to muscle tension and tightness. The massage combines deep tissue techniques, passive stretches, and joint mobilization to reduce the intensity of persistent musculoskeletal pain.
This type of massage also delivers powerful results in combating headaches and joint pain while providing long-term relief from tense muscles.
Before the massage, deep-heating hydrocollator packs are applied to the area to prepare the muscles for work. After the massage is complete, Biofreeze is used to cool down any heated areas.
Discover Keystone Resort
Keystone Resort is a breathtaking Colorado destination perfect for the adventurous family. Its three unique peaks offer 3,148 acres of terrain to explore, from skiing and snowboarding to tubing and ice skating. The resort also provides exceptional properties, including ski-in/ski-out condos, boutique hotels, and more for your stay.
Book your trip
today.