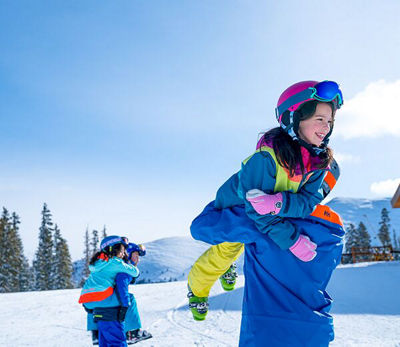 Play Video
Make Friends and Get Back to Snow
Put on your best good mittens cause it's time to play in the snow. Okay, well, perhaps not quite yet. You probably should keep your fingers free for now. You have a little more adulting to do and we hear it's a bit tricky to type with mittens on. So whether you're dreaming of trying to catch snowflakes on your tongue or warming yourself up fireside with hot chocolate, we have an entire snow-filled playground that allows you and your family to play anyway you'd like. And don't worry, we won't tell anyone you kept your mittens on this entire time. Let's get to it.
Enjoy the Little Things
Snow-filled fun awaits you and your family at Keystone, where playing is an entire family affair. It's a snow day that requires no shoveling. So leave the chores behind and romp through the snow with pure delight as little moments become lifelong memories. Let your imagination run young as you climb, slide and explore a mountaintop snow fort so big, you'll feel little.
Less YouTube, More WeTube
Don't worry; the butterfly-inducing adrenaline will quickly give way to wind-in-your-face, laughter-filled glee as your snow tube whirls and twirls down the mountaintop. The best connections do not require any sort of internet, simply grab the hand of the person next to you and download the moments.
Be Your Selfie
At Keystone, kids have no age limit and the best selfies are … you! Capture the joy of living in the moment and enjoy the freedom of being your unapologetic youngest self, no filter required.
Take a Siiick Day
It's the snow day of all snow days, and if there's anything that allows you to play like a kid again it's a powder day. The giddy anticipation will spring you from your sleep bright and early and practically knocking your family out of bed, because on a snow day there is no work, no school, just play. And that's siiick.
Soak it All In
What's a playground without some pool and hot tub access? No need to just dip your toes. Climb on in and feel the bubbles. Let the warm waters soothe your muscles, because there's more playing to be had.
Make Friends
Meet all sorts of cool new future friends at Keystone, because playing is more fun with both old friends and new ones. Create family games, high-five a lift operator, hug a ski school instructor, build an entire family of snowmen, meet a ski patrol dog, there is no shortage of fun-loving friends at Keystone.