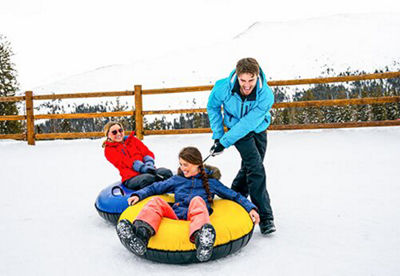 Play Video
TIME TO GET BACK TO SNOW
With so many notifications buzzing, alarms beeping, appointments and meetings, it's easy to get caught constantly looking ahead to tomorrow, and forgetting to enjoy today. Ask yourself, when was the last time you really played? Got lost in the moment and giggled till it hurt? If you can't recall, maybe it's time you took a snow day.
Remember how excited you felt when you got to miss a day of school? You're just as deserving of those days now as you were when you were a kid, probably even more. So give yourself the snow day (or week) you always wished for. Because, winter's too short not to pause and play like there's snow tomorrow.
Less YouTube, more WeTube
Don't share an awesome video with your friends, share an awesome moment with them. Get lost in that moment as you soar down the world's highest tubing hill with multiple lanes of adventure. Let adrenaline rush through you and literally connect with your best friends as you cling to each other in the midst of spiraling down the mountain. Remember how you felt the first time you sat on a saucer and zoomed down a hill? Imagine that times ten.
Fair warning: you may experience stomach cramps and sore cheeks from laughing so much during your mountaintop snow tubing adventure.
"Work" Late
You've stayed late for your job so why not ski late for yourself? Feel complete freedom as you zoom down an empty slope lit by the stars. Get fully lost in a moment and forget about everything else. The only thing you'll have to worry about is picking which constellation you're going to follow on your way down. The days are short during the winter but at Keystone your ski days don't have to be.
Take a Siiiiick Day
Sick days inevitably happen, so take charge and have your own type of siiiiick day. Make your heart rate rise as you blast through knee deep fields of powder on a full-day guided excursion where a heated snowcat transports you to some of the best terrain on the mountain. Let the mountain be your canvas as you carve to the bottom. Brush off your snow covered face, look back up the mountain and see the beautiful lines you created. The mountain is the best medicine for a siiiiick day.
Soak it All In
Let out a long ahhhh as you sink down into a steamy hot tub and feel your muscles relax. Hot tubs are great anywhere, but there's something extra special about reflecting on the epic day you had with your friends, drink in hand, while the bubbles blast, steam engulfs you. Glittering flakes gently fall from the sky and cool your skin while you take in the silhouettes of the mountains that surround you. Soak it all in because this combination won't be as easy to find back home.
Be Best Buds with Your Taste Buds
One of the best things about a snow day is skipping school lunch and eating whatever you want. Keystone's the same way except instead of cereal and ice cream paired with cartoons, imagine a champagne brunch at 11,444 feet. Meals aren't just meals, they're adventures! From a dinner that's paired with a picturesque voyage aboard a horse-drawn wagon, or a cozy fireside four course meal that makes you feel like an original settler as you're transported back to the 1800's, to a mountaintop meal that comes with fuzzy slippers to warm your toes after a day in the snow. Snow days are always filled with adventures, your meals should be too.