Top 7 Ways To
Break the Rules at Keystone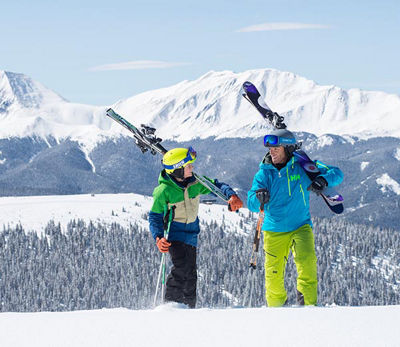 # 13 - Play favorites
A favorite run, a favorite après hangout, a favorite Kidtopia activity. Try everything so you know. Finding your favorites at Keystone will be a heck of a ride! What we're most excited about? Seeing you share those memories. Don't forget to use #keystonemoments so we can see the good times.
# 3 - Don't act your age
At Keystone, no matter your age, we know you're a kid at heart, so feel free to act like it. Enjoy the World's Largest Snowfort, giant snowball launches, family movie time, scavenger hunts, daily cookie time, meet and greets with the avy dogs, parades and fireworks. There are plenty of ways to let your kid flag fly!
# 6 - Keep your hands outside the ride at all times
You are snugly in the tube, flying down the hill. It's definitely the time to throw your hands out and scream! Break this rule at the top of Dercum Mountain on eight (YES! Up to EIGHT!) lanes of tubing fun. The best part is, you don't have to walk your tube back up. There is a magic carpet for that!
# 5 - Play with your food
With so many delicious, family-friendly choices, you're bound to have a blast just moving food from plate to mouth! Devour Bighorn Bistro's Family Brunch or dip into some delicious fondue at Der Fondue Chessel. Let the young ones have their own meal while you eat gourmet at the Keystone Ranch or go by horse-drawn sleigh to the Keystone founder's original homestead for a fantastic meal on a Sleigh Ride Dinner.
# 9 - Play up past your bedtime
Just because the sun goes to sleep, doesn't mean that you need to as well. We have the longest ski day in Colorado! The fun won't stop at sunset because night skiing goes until 8pm most nights. You can enjoy 9 runs of ski and ride fun under the lights.
# 12 - Talk (and giggle and shout) in class
The family is able to learn together with Family Private Lessons, regardless of age or ability. Or the kids can enjoy Camp Keystone while the parents go shred on the mountain. They'll have an adventure at Camp Keystone with interactive fun and learning fit for the little ones. Either way, you'll be hootin' and hollerin' about the best time you've ever had at school!
# 16 - Take your coat off and play a while
Keystone has a large variety in over 1,200 lodging possibilities. If you're simply looking for a hotel room, or would love a condo (of a variety of sizes) to make yourself at home in, we'll have something that fits your needs and budget! Best part of all, if you stay two or more nights, you qualify for Keystone's best offer - Kids Ski Free. We are looking to give out more 12 & under kids lift tickets than ever!