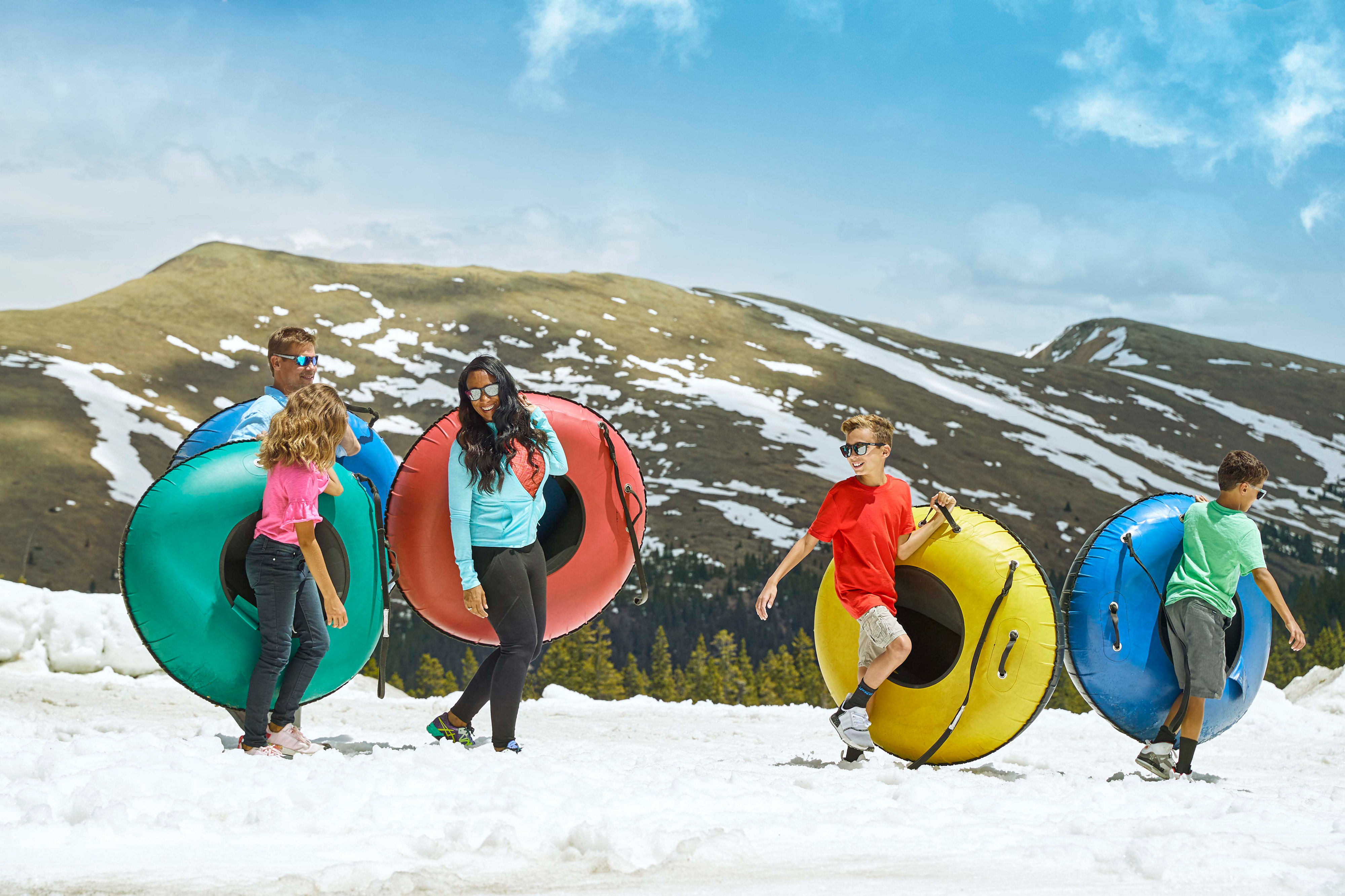 Keystone Summer Activities
Wednesday, June 22, the lifts at Keystone Resort will begin spinning for summer, offering a mountain of fun for everyone. This summer, we're thrilled to offer excitement both on and off the mountain. Keystone's off-mountain summer activities ramp up in May with golf leading the way. Keystone's River Course opens on May 13 and the Ranch Course opens on May 20. Keystone Stables will begin offering trail rides on June 3, with Scenic and Dinner Wagon Rides beginning June 16.
Keystone River Course – May 13
Keystone Ranch Course – May 20
Lakeside Village Activities – May 27
Horseback riding at the Keystone Stables – June 3
Scenic wagon rides & wagon ride dinners – June 16
All on-Mountain activities – June 22
Read on for more details of all the fun at Keystone this summer!
ON-MOUNTAIN ACTIVITIES
The Keystone Bike Park and other fan favorite on-mountain activities are set to kick-off Wednesday, June 22 and will operate weekly Wednesdays through Sundays. Enjoy scenic gondola rides, hiking and downhill mountain biking, mountaintop tubing, mountaintop meals, and more.
You heard us right. Mountaintop SNOW tubing returns to Keystone this summer. Ride up the River Run Gondola and access the same tubing hill that operates at the resort during winter. Our resort teams farm snow from around the mountain to maintain the tubing hill so that guests can chill, cool off, and go for a slide this summer season. Open as long as the snow lasts!
Keystone Bike Park: It's All Downhill from Here
From downhill on snow to downhill on dirt, the Keystone Bike Park offers some of the country's best downhill mountain biking, allowing guests to experience the adrenaline rush of sending it down the mountain in summer. With more than 30trails of lift-serviced singletrack, beginner and expert riders alike can experience the thrill of downhill on two wheels from mellow bridges and berms to rock gardens and rock drops.
This summer, downhill mountain bike racing returns to the Keystone Bike Park with the Revolution Enduro. Keystone will be the third stop in the series, taking place July 9-10. Spectators are welcome to join in the fun by watching the race in designated areas and cruising through the sponsor village.
Mountain Top Yoga
Rejuvenate your body and soul with mountaintop yoga. All levels and ages welcome!
Dates & Time:
Saturdays from June 25 - September 3
Sundays in July & August
10:30-11:30 a.m. at the Overlook Deck
Check-In Information:
Meet at 10 a.m. in the Mountain Service Center, located in River Run Village across from the River Run Gondola.
*Guests are required to present the credit card used for purchase upon activity check-in.
Additional Info:
Reservations are required
Please sign up by 4 pm at least a day in advance
Private & group lessons available upon request
Children comfortable in a yoga setting are welcome
Yoga mat is provided
No level restrictions; instructor can accommodate all skill levels from first-timers up to other yoga instructors
Bonus Tip: Lunch is offered at the top of Dercum Mountain. Enjoy gourmet sandwiches and snacks at 11,640'!
RIVER RUN BASE AREA ACTIVITIES:
Gemstone panning

Bungee trampolines

Mini Golf

Speleo Box
*On-Mountain and base area activities will also run Monday, July 4.
LAKESIDE VILLAGE ACTIVITIES: WATER YOU WAITING FOR?
The tranquil and serene Lakeside Village is nestled along the winding Snake River and the Summit County bike path. At the center of the village, the 5-acre Keystone Lake offers a variety of fun on the water with canoes, pedal boats, and paddle boards, all available to rent! The nearby Keystone Lodge & Spa also offers a full-service hotel with on-site spa, fitness facility, restaurant and bar. Festivities at Lakeside Village kick off Memorial Day Weekend, offering a hub water-side fun all summer-long.Grab the whole family and get down to Lakeside Village. Explore the 5-acre lake, recreational bike path and more. Keystone's Lakeside Village activities will open Friday, May 27 for Memorial Day weekend and will include:
Paddle boats
Stand up paddle boards
Kayaks & Canoes

Bike rentals
BUT WAIT! THERE'S SO MUCH MORE.
Believe it or not, there's even more fun to be had at Keystone this summer.
Align in the Pines: Align in the Pines is an outdoor yoga series at the base of Keystone Resort where guests can enjoy an hour of mountain air and a flow designed for everyone – yogi or not. Free yoga mats are available but don't forget your sunscreen and water and prepare for a mind-clearing hour of asana.
Where: Quaking Aspen Amphitheater
When: Wednesdays at 9am & Saturday's at 11am starting in July
Cost: $5 per class.
Keystone Summer Festivals: Keystone's 2022 Summer Festival line-up has a wide variety of music and events for everyone to find something to enjoy! Read about some highlights below and check out the full schedule here.
Keystone Bacon & Bourbon Festival: This two-day summer kick off features bacon-themed food dishes, live music from national acts, bacon from your favorite companies, and the famous TINCUP Whiskey Tour for Hungry Hog ticket holders.
When: June 25-26, 1pm – 5pm
Keystone Wine & Jazz Festival: Raise your glass to another year of Keystone Wine & Jazz Festival in River Run Village, with hundreds of varieties of wines to sip and savor. Frosted Flamingo, The Cave of Confusion, and face painting are available to help keep the littles entertained.
When: July 16-17, 1pm-5pm
Keystone's Annual Bluegrass & Beer Festival: Keystone brings back the Bluegrass and Beer Festival for another year of string bands, craft beer pours, mountain merch, and melt-in-your-mouth morsels. Frosted Flamingo crafts, The Cave of Confusion, and face painting are back to help keep the littles entertained.
When: August 6-7, 1pm - 5pm
Keystone Acoustic Music Series: Check out River Run Village on select Fridays of the summer and enjoy a cold beer with concerts from local musicians while you shop around at the River Run Village stores or just hang out at the restaurant patios.
Where: River Run Village
When: Select Fridays throughout the summer between 4pm-6pm
Cost: Free
SUMMER DINING AT KEYSTONE
Keystone Ranch
Golfer's lunch is available from the bar daily beginning June 3.
Dinner will be available Wednesdays through Sundays beginning June 9. · Bighorn Bistro and Lounge
The Bistro will be open for dinner 5pm-9 pm beginning June 3
The Lounge bar will be open 3pm-11pm beginning May 13, with dinner service from 5pm - 9pm.
Lakeside Deli
Open daily 7am-3pm for grab-n-go snacks, smoothies, acai bowls, gelato, and specialty coffee. ·
Ski Tip Lodge
The seasonally-curated rotating dinner menu will be available Thursdays – Sundays beginning June 9.
Four-course meals at $80/person.
Adventure for FREE!
When you book two or more nights of lodging directly with Keystone, you get automatic access to the Keystone Adventure Pass, which includes complimentary activities and deep discounts on dining and mountain activities.
Free golf on the night of arrival – upon check-in (after 4pm), tee times may be reserved on the same day for 9 or more holes of golf.

Tee times based upon availability. Times booked outside of the restrictions are subject to the full rate being charged.
Golf club rentals are available for $30 per set per day of play.

Golf practice facilities – Practice facilities include unlimited use of putting green, short game areas and driving range throughout the duration of your stay.

Golf club rentals are available for $10 per set per day of practice.
Reservations are recommended.

Mini Golf

– No reservations required.

Located in River Run Village at Dercum Square.

Tennis – one hour of court time.
Kids swing free! Complementary golf daily after 5pm with a paying adult aged 18+.

Corresponding tee time for adult required.
Reservations recommended. Walk-ins permitted pending availability.
Golf club rentals complimentary.

One gondola ride for kiddos Ages 12 & Under.