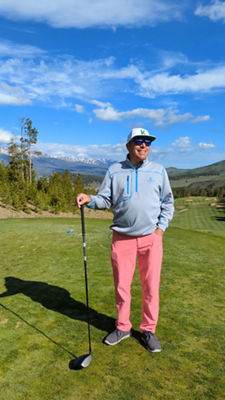 Maintaining Your Equipment:
Grips:

Grips that are worn are like dull ski edges, and if you have ever tried skiing on dull edges, you know it isn't much fun. Worn grips will cause you to hold the club too tight, and

result

in a loss in distance and errant shots.

Sunscreen and other oils will make your grips slippery over time, so i

t's

important to wash your grips on a regular basis

with soap and water. Even with washing, you should replace your grips every 1-2 years, or more depending on how many rounds you play.

Clubs: Keep your clubs clean for the best interaction between the ball and the grooves on the face of the club. Clean clubs mean golf shots that can spin on greens as seen on TV.
Shoes: Golf shoes will last a long time if you treat them right.

Only wear your golf shoes while on the golf course.

Make sure to change out your spikes 1-3 times per season or else you're going to need a new pair of shoes. Once your spikes are too worn, you won't be able to remove the old ones to replace them with new ones. If you don't like the idea of changing spikes, you can go spike-less. But remember that once the

tread

is worn, you will be purchasing another pair of shoes. I only wear spike-less golf shoes and I generally get 2-3 years out of a pair of shoes.
Golfing at Altitude: Golfing at 9,300 feet, the ball travels much further than at sea level (which also means that golfing is more fun)! It also travels straighter, so for all you hookers and slicers out there this is the place to play. Hit the range before getting out on the course. Get in a few practice shots, dial in those yardages before hitting the course to really make the most of your time out on the greens.
Pace of Play: The golf course is one of the greatest places to be, however we want to make sure we enjoy ourselves while playing in a reasonable amount of time. If you feel the need to eat three full meals while on course, you've probably been out too long. Make sure to keep your game moving --
Use our handy-dandy tag marshal system. TAG provides you with GPS yardages and it notifies you on how you are doing in terms of course pace time guidelines.
Use the buddy system. Help each other out, keep an eye on your partner's ball and keep your pace of play moving together.
Play ready golf. What is ready golf? It's simple: when it's your time to play, make sure you're READY with your ball, tee, selected club!
Finally, choose the right tee yardage that fits your game. Golf is meant to be fun, and if you are not hitting the par 4's with a mid to short iron, it may be time to move up a tee.
Golf Etiquette: It's important to repair your ball marks on the greens to be courteous to the next golfers. We offer sand and seed bottles on every cart which you can use to fill divots. If you leave a ball mark on the green, first off – congratulations! You've made it to the green and you're that much closer to a birdie. Make sure to use your repair tool and twist towards the inner part of the ball mark to fix the putting surface.
Arrive Early: Arriving at the course right on time is not the greatest way to start a round. We want you to feel relaxed and that is not possible while in a rush. We recommend arriving 45 minutes before your round, which allows you to get checked in, grab a couple of snacks or beverages for the course and hit the practice facilities. While hitting the range, start with a wedge and progress to the longer clubs in your bag. Next, proceed to the practice putting green to get a feel for the green speeds. Finally, take a minute to chat with the golf staff to pick up any local knowledge on how the golf course plays. Golf courses in the mountains generally have certain terrain features that will impact the way the golf ball breaks on greens.
Choose the Right Golf Ball: Finding the right golf ball comes down to feel and swing speed. My preference is to play a ball that feels soft around the greens and off the putter. However, too soft or hard of a ball can impact performance. Consult your local professional to see what ball is best for your game.
The Short Game: Let's face it, the distance game has made golf fun, but don't forget to spend time on your short game. Getting the ball into the hole is the name of the game. In my opinion, you should spend 60-70% of your time perfecting your short game. Did you know the best players in the world only hit on average 11.7 greens in regulation per round and their scoring average is below par? Proof that the short game matters.
Fundamentals: Focus on the pre swing to get the most out of your full swing. Grip, stance and setup are incredibly important and allow for consistent ball striking. In particular, I am constantly focused on alignment and aim. I use an alignment stick to help me stay sharp in this area when practicing. Official GOLF alignment sticks and training aids range in price from $15 - $100 but I find driveway markers work just fine at $1 each.
Now you're ready to hit the links like a pro! Check out our website for more information about our two amazing golf courses and set up your tee time today.