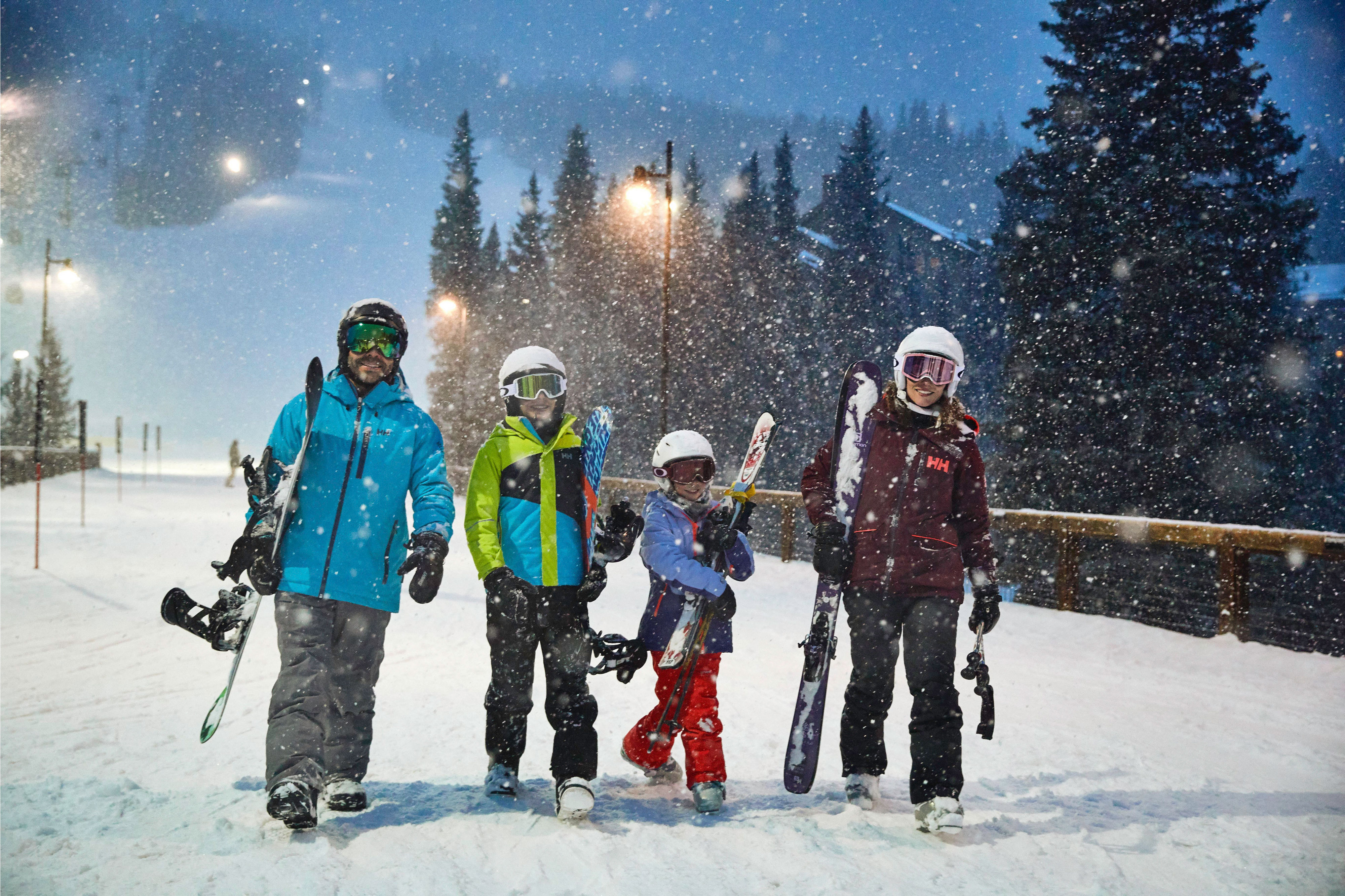 Getting Here: Keystone is only 90 miles from the Denver International Airport, making it one of the closest ski resorts to the largest airport in Colorado. From the airport, hop on I-70 and head west. No car? No problem. Book an Epic Mountain Express for a convenient shuttle service from the airport directly to our resort.
Playground Pro Tip: If you're driving to see us, make sure to check goI70.com before hitting the road for travel forecasts and tips.
Lodging: Keystone is your home away from home! Comfort is key (get it?), so we've got plenty of options for you to find your Goldilocks-zone home with a spectrum of lodging accommodations, from traditional hotel rooms to condos, townhomes and multi-bedroom properties. Search and book at our lodging page.
Playground Pro Tip: Kids ski totally FREE at Key! Kids 12 and younger ski for free with no blackout dates when families book just two or more nights through Keystone Resort. Lodging accommodation options span from affordable hotel rooms to family-sized condominiums. Book your lodging through our site for all of the details.
Parking: We know our parking sitch looks a little different this season with new upgrades to our village. But Keystone still offers tons of free parking at both of our base areas, the River Run lot and Mountain House East lot. Plus, access the Peru lift in just a few steps from Mountain House East or additional paid parking at the Mountain House West lot.
Playground Pro Tip: If you're coming up with the kiddos, we have reserved front-row family parking zones! These are free parking spaces at the front of the River Run lot, just steps from the village, available on a first-come, first-serve basis. For more information, see our transportation services page.
Playground Pro Tip 2: Parking in our main lots at River Run and Mountain House usually fill by 10 AM on weekends and holidays. Try arriving early to guarantee a spot or arriving in the afternoon to take advantage of our night skiing operations.
Night Skiing & Late Comers: One of Keystone's ultimate insider tips & tricks is that you don't have to rush to get your turns in! On select weekends and holidays, take advantage of our night skiing operations. Sleep in, avoid the day-time mountain-goers, and enjoy Keystone after dark and under the lights. Night skiing operations run from 3-8 pm, for more info check out our site.
Playground Pro Tip: Take a load off! Start your day late, enjoy a leisurely morning on your time off, and hit the slopes in the mid-afternoon. There's still plenty of turns to be had even in the afternoon and evening, and parking generally starts to open up again around 1 pm.