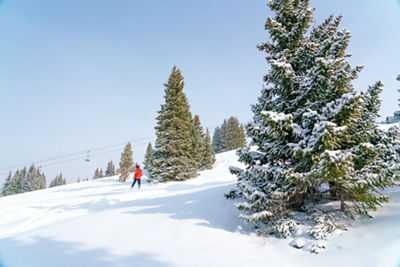 Here at Keystone, our mountains have a little something for everyone, whether your group is full of pros, beginners, or both!
MILD:

Wild Irishman

–

Intermediate

WILD:

Wild Irishman Cliffs

-

Advanced
Located on the front-side of Dercum Mountain, Wild Irishman is a wide-open, cruisy blue trail that offers fun rollers for the intermediate and up. But for advanced skiers and riders, it comes with an exciting twist. Stick to skiers right as you approach the start of Wild Irishman, and you'll catch the entrance to the Wild Irishman Cliffs, a short but sweet detour that offers steep cliff drops and hidden powder stashes before linking back up with the main run. Beginners in the group can even follow Schoolmarm to Silver Spoon and end up back with their friends before lapping the Montezuma Express and doing it all over again!
MILD: Mozart

– Intermediate

WILD:

Lower Windows - Expert
On the backside of Dercum Mountain, Mozart offers a healthy challenge for intermediate skiers and riders. Mozart's groomed pitches are a favorite among guests, but if some folks in your group are seeking tight trees and powder, look no further than the Lower Windows. Simply head skiers left underneath the Outpost Gondola before heading down Mozart, and you'll be treated to some of Keystone's steepest, tightest trees. Both trails quickly link back together, so you and you friends can easily regroup before heading down for another lap off the Ruby Express or some tasty barbecue at Labonte's Smokehouse.

Please note, the Lower Windows are expert terrain and should not be skied alone.