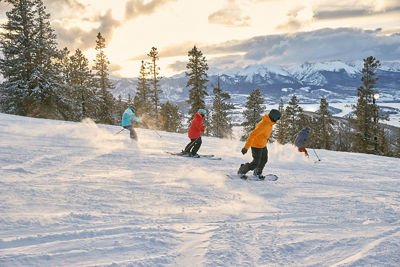 You've probably seen it around the resort, but have you ever wondered what exactly is our EpicPromise? As part of Vail Resorts, Keystone, along with our 36 other sister resorts, is dedicated to:
In 2017, Vail Resorts announced Commitment to Zero—a bold goal to achieve a zero net operating footprint by 2030 through three pillars:
zero net emissions

zero waste to landfill

zero net operating impact on forests and habitat
The communities in which we operate
We work in partnership with our communities, local organizations and non-profits to help address some of the most pressing needs of our unique mountain communities, including things like food distribution and childcare to youth access and forest health through our community impact program.
We provide emergency relief grants and educational scholarships to our employees and their dependents through our EpicPromise Employee Foundation.
Below is more detail on how some of these things are being brought to life right here at Keystone and our community of Summit County.
COMMITMENT TO ZERO AT KEYSTONE
ZERO WASTE TO LANDFILL
If you've dined at Keystone, you may have noticed the variety of ways to dispose of your waste. We have bins for compost, glass, mixed recycling, landfill, and even one for snack and candy wrappers! You'll also notice that we have eliminated single-use paper cups and the majority of our outlets have also eliminated plastic straws. All of that is part of our effort to reduce landfill waste. We sort and collect food waste from the mountain restaurants and hotels, and rather than putting it into the landfill, the material is sent to a county facility to be recycled and composted. Even cooler: we use that compost throughout the summer to help keep our mountains luscious and green! We are on track to meet our company's goal of zero waste to landfill, and met our first milestone of a 50% waste diversion rate in March of 2020.
ZERO NET EMISSIONS
Commitment to Zero isn't just about waste – it's about energy and emissions too! The Plum Creek Wind Farm, which Vail Resorts helped bring to life, has been in operation for a full year and is producing renewable electricity for our resorts! This electricity, plus energy from other local renewable programs, addressed 85% of the company's North American total electricity use. Locally, Keystone is subscribed to Xcel Energy's Renewable Connect Program where solar electricity produced in the state of Colorado addresses a portion of the resorts' energy use. Investing in upgrades like LED lighting and high-efficiency snowmaking equipment reduces our energy use, too.
In a continued effort to reduce our emissions, Keystone upgraded its snowmaking system in 2019 to a new, state-of-the-art, automated energy-efficient system. This new system allows Keystone to manage resources more efficiently and operate more productively in narrow, early season snowmaking windows. Basically, this means we can create more snow, using less energy, and do so in a shorter window of time! We've also replaced more than 50 snowmaking guns with new low-energy, high-efficiency guns.
ZERO NET OPERATING IMPACT ON FORESTS & HABITAT
When it comes to our forests and habitats, we also want to do everything we can to maintain and protect the amazing lands we get to have fun on! We're committed to having a zero net operating impact on forests and habitat, including restoring an acre of forest for every acre permanently impacted by new and expanded operations. With our upcoming Bergman Bowl expansion, our teams went out to the soon-to-be construction site and collected seedlings. These will be germinated and planted at the end of construction, so when we open our new, groomed terrain, the flora and fauna that were native to the area can continue to thrive!
Through our donation program, guests have the opportunity to give back to the public lands that make their experiences possible by checking a box to donate just $1 with their pass purchase. Because of these generous guest donations, Summit County, where Keystone is located, received a portion of the $1,578,888 donation to the National Forest Foundation and a portion of the $124,684 donation to the Nature Conservancy. So thank YOU for being part of the solution too 😊