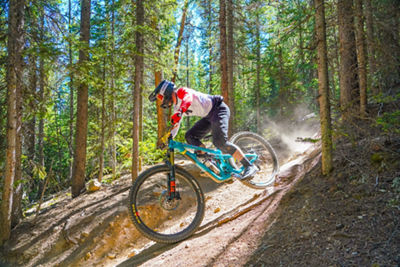 Know Before You Go
Just like ski trails, all routes within the Bike Park are designated by color-coded markers at the start of each descent. Not only are bike park trails described by color, but also by Freeride vs. Technical.

Freeride

Freeride trails are machine-cut and contain man-made features. Routes are enhanced with dirt jumps, ride-on features, gaps, narrow surfaces, wallrides, berms and other natural or constructed features. All Freeride trails are identified with an orange oval.

Technical

Technical trails are designed to embrace the rugged shape and terrain of the mountain, utilizing a majority of natural terrain. Routes are typically hand-built and feature organic obstacles and stunts such as rocks, roots, logs, drops, jumps and other natural or constructed features that require technical riding skills. Technical trails are identified by their difficulty symbol, a jagged arrow. Jumping skills may be required.