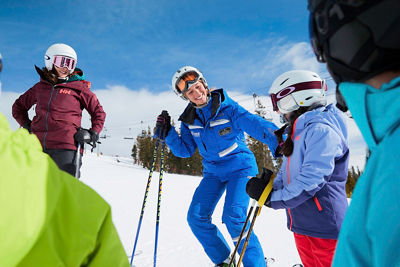 What do you dream about when you think of spending a perfect, bluebird day on the mountain? Do you picture effortlessly navigating a steep trail or bowl while perfectly in control? Feeling the mountain air breeze by while you playfully twist and turn through a pine forest? Or maybe just watching the world go by while you expertly meander down a long, rolling groomer? If you are newer to winter mountain sports, you might be asking yourself how you can make these dreams a reality so you can take your pick of runs from green to blue to black.
Some of the best advice we can give you is to take your time and enjoy the journey. A huge benefit of taking more than one lesson is that our instructors can help you make incremental improvements over time, and they will customize each lesson depending on where you are at. A mixture of practice, some helpful advice, and matching your goals and skills with the right trails and terrain will help you find success.
Keystone has three peaks that follow a natural progression, which is something both our instructors and our guests love. Don't count the learning area and green runs at the top of Dercum Mountain out because you aren't a first-timer or beginner: Those runs are crazy fun for working on a skill that's been tripping you up, or for warming up your legs. It also offers arguably the best views at Keystone, which can only inspire you to keep conquering the mountain! Once you master a skill on the green runs, you can take your skill to the next piece of terrain and apply what you know to get comfortable at the next level.
Learning to ski or ride is a balance between knowing your limits and ability-level and challenging yourself to progress. You might be surprised at what you can handle, or at how difficult a green run can be if you are trying out a new skill. Our instructors know the perfect places that will challenge you just the right amount. Have some fun, and remember: you've got this!
Explore Lessons