Not one but TWO fun zones for the whole family!
Keystone Signature Snow Forts
At Keystone, we're all about having of fun in the snow, whether that be skiing, riding or something for those who prefer to stay on their two feet. This year we're serving up fun for the whole family, with (drum roll please) not one but TWO on-mountain Snow Forts! That's right, we're not only bringing the magic of Snow Fort back -- we're doubling it.

Don't miss the World's LARGEST mountain top snow fort at Dercum Mountain! The snow fort is the perfect stop before heading to a mountaintop tubing session, or is a fun way to enjoy our beautiful mountain while taking a break from the slopes. The nearby Summit House offers breakfast, lunch and snacks and hot chocolate for a fun afternoon of adventure.
After your mountaintop adventure, head down towards our Mountain House Base Area and check our new Snow Fort for the kids to play while the parents pop into the Last Lift Bar for some après.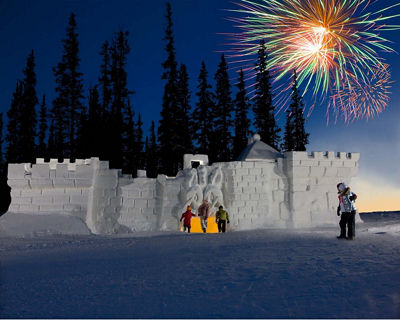 Dec 23 & Dec 31
Light Up The Night This Holiday Season!
Experience the magic of Keystone this holiday season!
Snow Fort Grand Opening & Fireworks - Dec 23
Join us for our Mountain Top Snow Fort Grand Opening & Fireworks from 4-7pm. Load the River Run Gondola to 11,640 and watch the nighttime spectacular lighting up the worlds largest mountaintop snow fort and fireworks lighting up the night sky at the top of Dercum Mountain.
New Year's Eve Torchlight Parade & Fireworks - Dec 31
Ring in the New Year with the whole family at Keystone in River Run Village. We will bring back storied traditions of our Torchlight Parade & Fireworks over the mountain starting at 6:30pm. Gather in River Run Base Area for the best viewing after taking runs with the whole family under the stars.